A giant broad teethy smile, all the way through, thousands of butterflies, flowery passages, fruity fragrance, and tingling all over the body… perhaps this is the closest I can explain how it feels when you are in love… but I would not take the risk of explaining how hellish it feels when he breaks your heart and wants both of you to move on… move on, like literally.. when you rather feel like stuck.. as if  earth clasped your feet, and your other foot is in your mouth and its strapped with a metal sheath!!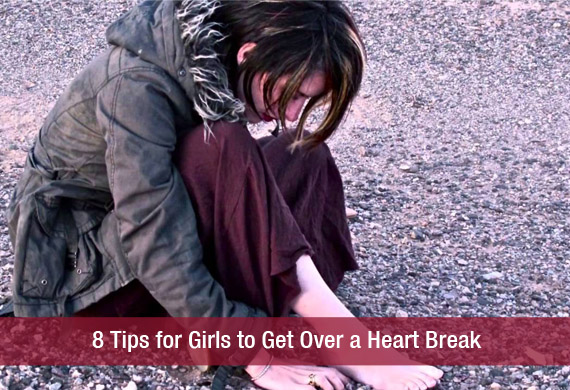 A break up, that too if it is the first one, leads to a crushing heart break. When any relationship is broken up, it hits you hard… your mental makeup is like shattered and you feel very much injured and bruised while there is no outward sign of any earth shattering episode.. if so is the case… you are heading towards depression my dear! A breakup sometimes seems to be an irrecoverable condition… but you know you mean more to a hellot many people that him alone.
The only good thing about the first break up is that YOU CAN LEARN A LOT FROM IT!! 
You can roll your eyes and swear, but I am here to help!! … here is what you need to get over a heart break. Check out-
Tips to Cope up with A Break-Up:
Be a Busy Bee- Keeping yourself busy is the initial step to be incorporated in this situation. A girl should get herself busy in daily routines like nothing has happened. The practice of trying to forget about the relationship can help a lot.
Ban your Phone- Another thing, which is equally important, is to control the urge of talking to your boyfriend, no mobile checks, no emails checks, block him on fb and whatsapp. Period. If this is accomplished, then it becomes easy to
Talk-talk-talk- Socialize! You can spend more time with your friends and family, and also can get engaged in some activities you love the most. Sharing thoughts with parents and friends is a great help. Its not necessary that you have to share thing about your boyfriend with your family… for heavens sake. There are other topics to keep engaged in.
Its Alright! Understand that every relation does not last for a lifetime. Everything comes to an end to give way to something new. Life revolves in cycles and you must co operate to keep yourself safe from hurt! Learn to "move on"… Yes, I finally spelled the most dreaded word!!
Buck Off the Blaming- Respecting yourself and stop blaming yourself for the relationship which could not work out. A girl should understand that a life exists after a break up which can be more wonderful than before. To think that life has ended once you broke up with your guy is disrespect to the greatest blessing…and that's your life!!
Healing Time- A girl should allow herself to heal and should not get engaged in some other relationship just after the break up. Always learn from your experiences and mistakes and let the hurt heal… the funda of treating a breakup with a hook up is so not right!!
Vengeful… Sadist?? None of this…Hysterical it sounds, but the feeling of revenge is too immature to give into! It will get you in more pain and you will never be able to get out from that. Try to respect each other's choices and don't allow your love to get converted into revenge or hatred.
Give yourself Time- Time is considered to be the best healer, let it heal the pain, anguish and hurt. The best thing to deal with a break up is to move on in your life.
Acceptance is a wonderful mode of living life. Accepting the change and allowing it to take place is what you ought to do. Life is good and you need to find out how you can make it the best….
Come on gal, cheer up… the cool thing is to just never give more importance to a breakup… Pamper yourself, take a break, revamp your wardrobe…  go for spa and massage.. Indulge in your favorite foods, go out with friends… Life has just started darling… make your way up and ditch the dissipating depression!
 Image Sources — 1, 2, 3, 4, 5,