It has been a subject of discussion for years! When it comes to choosing between a cuppa coffee or a glass of juice, we do get confused! There are people who consider coffee as the vehicle of caffeine…but ladies, if taken in right quantity…it can do wonders for your health. Want to know more? Read on………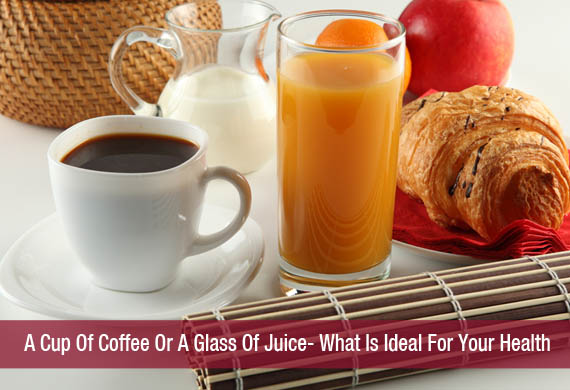 Fruit Juice V/S Coffee!!
Coffee contains several antioxidants that help in delivering insulin to the body tissues reducing the risk of Type 2 Diabetes. Contrary to which, fruit juices contain sugar. And the juices that doesn't contain sugar, lacks fiber. They make you fat and are surely a NO-No for diabetics.
And then there is packaged juice that contains colors, preservatives and chemicals leading to deadly diseases like cancer. So, I would suggest a whole fruit instead of juices, any day whereas a small amount of coffee can prevent colon cancer.
I am not anti-juices! But generally coffee is considered to be better for your health. It has a potent stimulator and hence reduces LDL cholesterol. Yes ladies, it contains more soluble fibers than a glass of juice. And soluble fibers are highly important for blocking the formation of cholesterols.
P.S. – People suffering from high blood pressure issues should totally avoid coffee.
Choose Your Coffee Sensibly! Here's How…..
One should never go for filtered coffees as cafesol (present in brew) is left behind which is actually essential for lowering the cholesterol levels. Boiled coffee, pressed coffee and Turkish coffee are the finest choices for people having high cholesterol. I would also suggest you to have instant coffee instead of filtered. And in either of the cases, be it a wedding or a party…they are going to serve the same…so there's nothing to fear about!
Simple Is Better Than Sinful!!
A healthy cup of coffee can be turned into a "not so healthy" beverage by the addition of sugar, whipped cream and all the flavorings. So, I would urge you all to include a simple cup of black coffee in your day to day life for maximized benefits. J
Keep a watch on your consumption whatever may be your coffee choice for your health's sake!
 Image Sources — 1