To look glamorous, there is no need of high expensive things all the time as you can do that within few minutes and that too under your budget!! Yes I am serious ladies, believe me once you are done with this article, you will find yourself in another world of glamour instantly and I know there must be plans hovering in your mid regarding that evening bas… So without wasting much of your time, let me take you to another world straight away and tell you how you can glamorize your looks and the occasion too!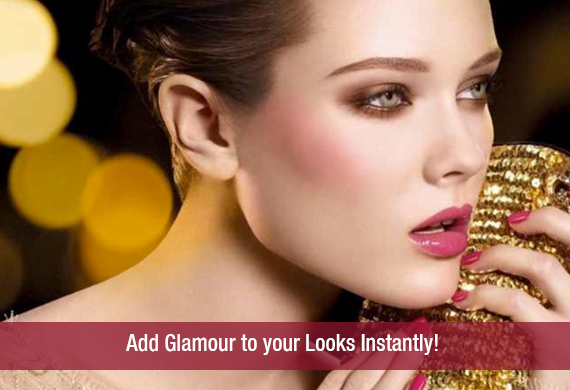 Red Lipstick will Steal the Show for you…
A dab of red lipstick and you are done! This will instantly add spark to your face and if your colour is too fair, you can drop many jaws for sure….. Ummnn sounds interesting isn't it!! Lipsticks have the power to change the outlook of your face and this season is all about rocking and inviting colours.
Spare Time for your Hair as well…
Your hairstyle too can play an important role when it comes to maintaining glamour quotient. You just need to make sure your hair is neat and you can tie them in any way be it a high pony tail or you can also let them free…
Add Pumps to your Looks….
A simplest way to add glamour to your plain outfits is by wearing a high pair of heels… heels can help you feel like in top heaven. You can walk elegantly and surely can thump many hearts.
Winged Eyeliner will do the Job!!
Embrace liquid eyeliner this time and shed those pencils….and don't go for the normal wing, try a seductive one this time. It might take few extra minutes but once you are done, you will surely find it worthy! Once you get the whole thing done, there is no looking back.
Dazzling Danglers to Rock the Party!!!
Nothing dazzle like dangling earrings. A pair is enough to compliment your hunger for fashion. The plus point is you can team them with any outfit, be it a saree, a gown or a western outfit…..all goes well with them and you can anytime play with numerous colours.
If this is the early evening time when you are going out, then an oversized pair of sunglasses will serve the purpose. Not only you can get protection from sun but also flaunt a new style quotient. Hmmnn smart gal is killing two birds with one stoneJ!!
What do you think now? Haven't I made the process easier by dropping these lovely tips in your hat!! Take advantage!!
Image Source : 1
Incoming search terms:
looking glamours nonod sajgoj for occasion (1)