Natural oils are invaluable tools when it comes to natural skin care! The non-greasy natural oils are extracted from flowers and herbs. So, is your skin lacking its vibrancy? I can totally understand the irritation dry and dead skin causes. Yes, you can maintain a healthy lifestyle all along but what about the pollution, dust and dirt outside of your cozy, comfy house? Yes ladies….skin care is indeed a difficult task if you don't not know the apt tactics. But do you really need to worry? Nah…just read on….find the benefits of essential oils and how you can implement its usage in day to day life!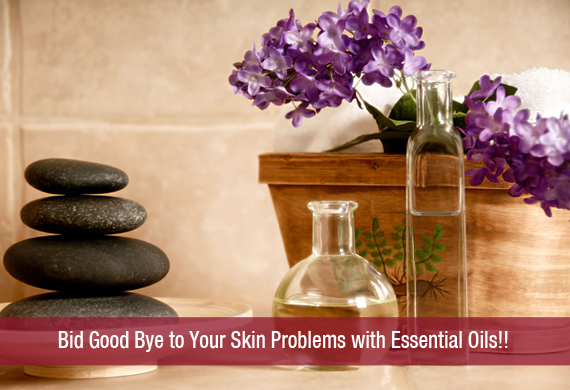 Essential Oils for Daily Skin Care
You can really add them to your daily moisturizers and cleansing creams. They are fragrant, they are healthy….essential oils! It's the key to a naturally glowing, flawless skin. Although it is important to uphold an apt diet but natural oils can put in wonders for skin. They get absorbed entering into the bloodstream rendering long lasting effects.
Acne Prone Skin: Rosemary and Tea Green are the ideal pick for ladies having an acne prone skin. It has the power to cure dry skin, acnes, zits and skin irritation.
Sensitive Skin: Jasmine, Palma Rosa, Chamomile or Yarrow Hydrosols can help you restore the skin's epidermal defenses making it glowing and healthy.
Normal Skin: They can really choose for any type of essential oils. But using Sandalwood, Rose and Lavender can minimize the chances of premature skin ageing.
Dry Skin: Ylang ylang, Cedarwood, Geranium and Rosewood can really help retain the moisture of your skin
Oily Skin: Lemon, Grapefruit, Juniper or Cypress can restrict the excess secretion of hormones that causes greasy and oily appearance of the skin.
Some of the fantastic benefits of essential oils:
Relives Pain
Anti-inflammation of the Skin
Acts as a great Antiseptic
Stimulates Immune Functions
Repair and Regenerate Damaged Tissue
Stress Reliever
Can be used on Minor Burns
Calming and Sedative Effects
These are really the very general benefits ladies. Essential oils can do wonders to your skin, hair and healthy if used on regular basis. Opt for your own and see your health taking a turn to happier days!
 Image Sources — 1