Having a plus size figure?? Have a curvaceous body but, don't know how to show it right?? Sshhh….it's a secret that I am going to tell you now. You know, men crave for busty girls.
They like it the 'big way'. You got the catch, right? J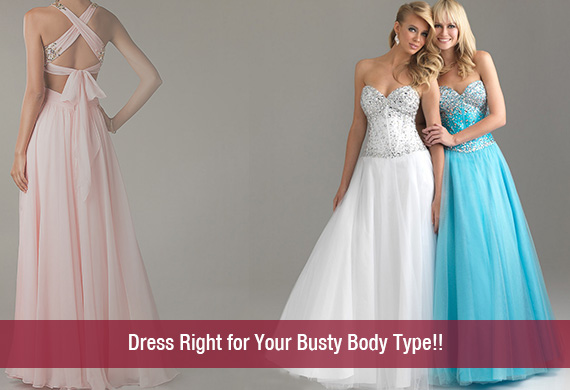 From where should I start? Hmm…okay! Let me first ask you to identify the characteristics of your busty body.
If you are busty, you must be having a wider back, softer shoulders, full arms and a well defined waistline. Busty women always have full breasts irrespective of body weight.
Dressing Tips For Bust Bodied Women…..
Shirt Flattering Your Womanly Bust Line
While shopping, buy shirts with a v- neckline or u-neckline. It'll make your bust a little higher and in shape. Look out for tank tops having wider straps. Please do avoid very stretchy fabrics which are in a clingy cut. If you'll go for that clingy cut, every inch of your torso will clearly be on display.
Layer With A Sweater Or Jacket
For the purpose of layering and flattering, wrap tops are the best. V-neckline is the sexiest! It's going to flatter your bust and you'll look more curvaceous. Make sure that you wear jackets buttoned up to nip in your waist. Your outer layer should slightly be shorter with that long tee underneath.
Skirt That Balances The Bust
This is the hottest part! You know, pencil skirts will make you look very sexy. It will show off your small curvy waist. And, A – line styles are going to match with your full bust line keeping you proportional. And yeah, please avoid miniskirts. They will you look tartly with that enviable bust of yours.
The Perfect Trousers Are A Must
See, if you want your trousers to skim over your hips then you better go for wide-legged look. Kindly avoid skinny styles because it will really make your bust look even more substantial.
 A Sexy Dress For The Evening Out
So so so.,.,.,. it's time to  bring in that diva style in you. wear a very romantic dress. Hmmm….prefer black. black is the sexiest, classic, royal and slimy. A cotton jersey dress with long sleeves wil just looks perfect. Awesome, blossom!!
Busty yet sexy!! Ain't it? Try the aforementioned tips to look your best!
Incoming search terms:
how to make big boobs fullgrowth only 30 days (1)