You asked for it and now we have it! Yes, you got it right ladies, the top eyeliner tips for the teens. I have "literally" scoured the Internet and came up with a compilation of my list of top 8 tips for y'all to enjoy. What do you say, girls? Are you ready to explore the top eyeliner tips that will make your eyes pop and sensual? Know the secrets via this blog and that will make it easier for you to put on the eyeliner….take a look….read on….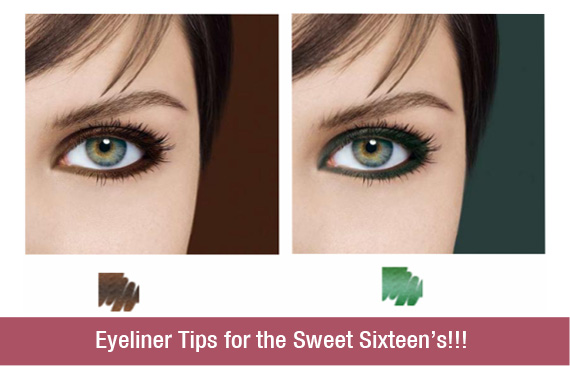 Put Eyeliner on the Upper Lids!!
Well, it's not really an eyeliner tip for teenagers…it can actually work wonders at any age! You always to start with upper lids and that's coz…if the upper eye lids are done perfectly, you can easily move down to the lower lids. The easiest way is to "play the dot" game to get the upper eyelid perfectly.
Go from the Outside Corner to Inside!!
When you are almost halfway through putting the eyeliner….just go ahead and start pulling eyeliner in from outside the corner. It will create an amazing little curve. It's great for teenagers for a cool, casual and chic look!
Don't Hide the Youth!!
One of the most common mistakes I have noticed in girls is that they line so-so-so much that they lose the youth in their eyes! All you need to do is accentuate your eyes…..just don't hide them behind the eyeliner.
Less is More!!
The eye liner tips go hand in hand with "less is more" phrase, ladies!! Just remember, even if you have blemishes…there are tons of ways to hide it! So teenagers….make sure you use less makeup versus more!!
Use Greens and Browns Instead of Blacks!!
It is strictly for the teenagers to follow! Teenage is one time where you can experiment with almost every look…so, amp up your appearance with green and blue and browns. Ahan…play around a little, girlies.
So teenies….what are you waiting for? Play with your looks with the aforementioned tips. I am sure, you will make heads turn! Have fun. 🙂
Stay tuned with Khoobsurati for more updates on makeup and beauty!!
 Image Sources — 1