Summers is that time of the year when we get to bid adieu to the layers of dark clothes and fitting tights and experiment with lots of fabrics and styles. We are spoilt with lots of color choices. But looking good doesn't mean we can wear anything and everything. Flaunting the right look is very important. This summer some basic things are a must for any woman's wardrobe.  Let's take a look at some of them: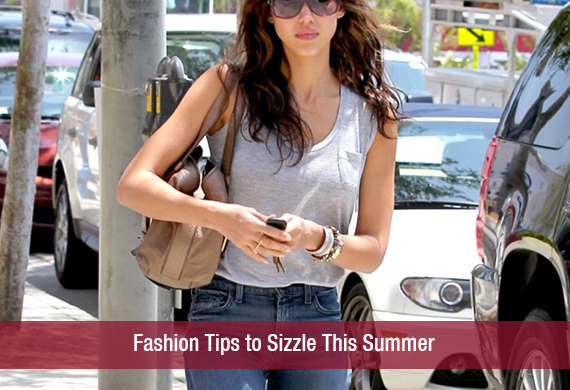 Sexy Sunglasses for a Bold Look!
From aviators to vintage, from tinted to colorful ones there are innumerable types to choose from. Not only are sunglasses a great accessory they protect our eyes from the harmful effects of the sun, one can also match them with their clothes or bags for a stylish look. When buying a sunglass do take care that the size suits your face type. Also go for a good quality one which has UV protection.
Skirts of All Sizes are In!
As the temperature rises wearing a jeans or tight trousers can be uncomfortable. Skirts have always looked graceful and in summers one can experiment with various cuts and designs. Long skirts in flowery designs or bold prints with a chic kurti and jhola bag give the perfect bohemian look. Complement it with matching eye makeup and flat sandals and you are ready for a day out in the sun. A tail hem that is skirts with a cut in the back can be worn at night for that oomph factor.
T-shirts of All Shapes and Sizes!
Wear T-shirts with prints or captions. Choose the shape which will flaunt your body type. Go for cotton or linen based t-shirts as others don't soak sweat. Thus you feel fresh all the time. Oversized tees worn with a pair of slacks and a baseball cap can give the perfect sporty look. One can also wear track pants with color tees for a leisure outing with friends.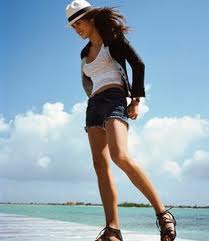 Dresses and Tunics for that Summery Feel!
Dresses in prints, flowery patterns, geometric designs and even stripes look good in summers. Look the prettiest this summer by matching the dress with a huge hat and wedged heels.
Don't Forget to Put on Some Comfortable Shoes!
Summers give you an opportunity to experiment with various colors and designs but comfort should come first. It is better to go for open sandals than closed ones as they allow your feet to breathe. Don't forget to apply sunscreen to save your feet from getting tanned. Wedge heels and platform look good with dresses and skirts. A pair of nude sandals is a must this season.
Accessorize to Add Spunk to Your Looks!
Experiment with chunky bangles, big bags and wooden beads or go classy with a smart summer jacket and oversized watch. The choice is all yours. Scarves are also an excellent choice for an accessory and look good on any kind of attire.
So prep up your wardrobe girls and beat the heat in style.