Getting inked is a tough task ever but bearing the pain for long and taking a proper care of it is more tough. Once you have got your new tattoo inked, your tattoo artist has no further role in maintaining that. You are solely responsible for the swelling or infection you may suffer with your tattoo if you don't take due care of it. So, have a glance at these aftercare tips for your newly acquired tattoo to protect it from infections.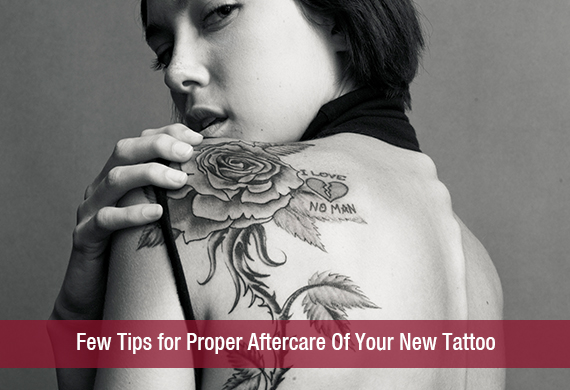 Leave the bandage for overnight – Some people might suggest you to keep the bandage for few hours, but fresh ink tends to bleed slightly so it's good to keep it covered for overnight.
Keep it clean – Your tattoo artist will clean and cover your new tattoo before you leave the shop. Then it's totally up to you how you keep it clean. Wash your tattoo with lukewarm or normal water using mild antibacterial soap and pat dry. Don't let the water directly hit your tattoo to avoid irritation. Also avoid washing it in salted water and exposing it to the sun for a month to avoid bleaching it out.
Protect it from friction – After washing apply some ointment and uncover the area to allow it to breathe. If your tattoo is in the area that would remain covered by your clothes then cover it with cellophane or a bandage avoid friction.
Keep changing the bandage – Keep changing your bandage 2-3 times in a day.  Every time you change the bandage, wash it and apply the ointment. After 3-4 days your tattoo will be healed enough and you'll not need to cover it with bandage. Only a thin layer of ointment would be enough to keep it moist.
Caution – Avoid using lotion over your new tattoo. It should only be used once the tattoo is healed. Apply ointments as suggested by your tattoo artist and initially apply that to heal and protect your tattoo.
I hope these tips would be helpful for you and you enjoy your new tattoo without any irritation. The above mentioned tips are the basic instructions but the size, technique and location of the tattoo also affect the aftercare instructions. So, always listen to your tattoo artist's instructions.
Image Source : 1