A new signature series of Gel Bar with 'Gold' was recently launched at the heart of Mumbai! This awesome innovation by Wendell Rodricks and Fiama Di Wills, ITC's leading personal care brand managed to create another hallmark of customer delight.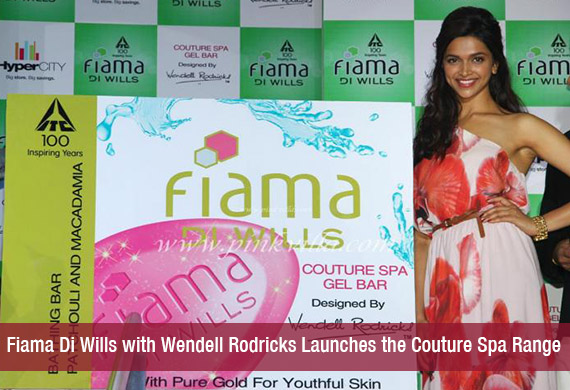 Yes muffins; you heard it right! Fiama has come up with an all new Couture Spa range that will allow you pamper yourself even more. Gotchya…..excited, ahan? Well, anyone would be…after all; the Gel Bar with Gold is one of a kind in India. The idea behind the range that's infused with real gold is to make you "Feel Young". Ah…who doesn't know that Gold is the secret to eternal youth?
Nourishing, exhilarating and exciting- these three words describes the goodness of this skin rejuvenation experience perfectly. To talk about the ingredients…this range incorporates the goodness of Macadamia, Patchouli which proffers soft & skin; Green Tea and Kiwi Extracts considered being the perfect anti-oxidant; lastly Ginseng and Brazilian Orange giving you ultimate blood circulation and cell regeneration. Isn't it a dazzling, sizzling amalgamation of components that's the first in India!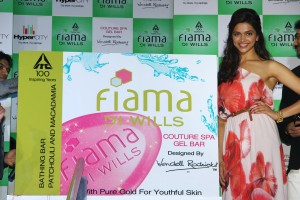 And to add that "oomph" to the complete event was the presence of Fiama Di Will's Brand Ambassador….yes….Deepika Padukone alongwith Wendell Rodricks unveiled the blessing for every woman at an elite    fashion show in Hyercity, Malad. Oops….I almost forgot to tell you, this Signature Range of Fiama is designed by India's Guru of Minimalism- Wendell Rodricks.
So ladies; keep all your doubts at bay….coz with Deepika's approval and Wendell's innovation; nothing can go wrong! Trust me honey; the signature series is a very built-in bond between beauty and fashion. Gift yourself an all natural and luxurious fashion bathing time! Enjoy.