It's true that people looks good with dark color but getting that color from the sun is far more dangerous than it looks. However, if you're a tanning addict and looking for getting some color this summer then read this article to learn more about the facts of sun tanning and what you can do to be safe in the sun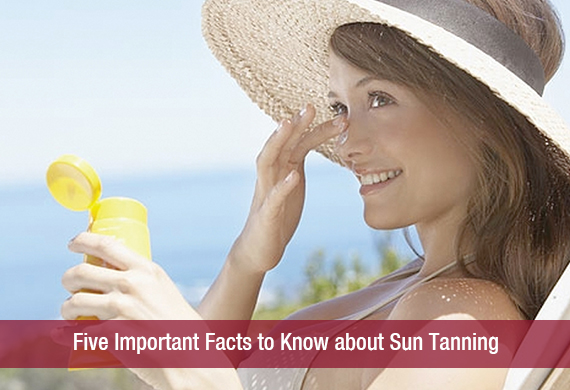 .
1. Use of sunscreen.
Sunscreen is the best weapon to fight against wrinkles and sunburn. It not only blocks the harmful UV rays of sun but it also blocks their aging effects on our skin.
Other than above discussed benefits sunscreen also helps people to looks younger than their actual age.  It's the cheapest, best, and most natural way that is available today to protect you from the harmful effect of sun as well as for keeping your skin younger and glowing.
2. Sun damage may appear after long time.
You may think that as long as wrinkle and other harmful side effects are not developing on your skin you are safe. However, it can be your fault because sun damage may appear after some time of sun burning. Moreover, the more you damage and tan your skin at young age, the worse you will look at your old age.
3. There is no "safe" tan.
It is true that is not safe in any case. Moreover, tanning is a process in which your skin's get damaged by reacting with the harmful rays of sun and it changes its color to protect itself from the further burning.
4. Dark skin is at risk too.
To some extent it is true that dark skin does have some natural protection ability from the light that comes from the sun. But people with the dark skin are also at the risk of skin burning and damaging from the sun light. Therefore, SPF 15 creams are the best solution for the people even with the dark skin.  This will surely help prevent skin cancer, fight wrinkles and keep your skin eve toned and flawless.
5. SPF 15 is only the minimum protection you need.
By wearing only the SPF 15 creams don't think that you're protected from the harmful rays of sun. However, SPF 15 is only better than nothing it doesn't provide the 100% safety but it is the minimum protection that you required before going for an outing in a hot summer.
Image Source : 1