Folks, bounded by frenzied schedules, should understand the fact that a lil bit rejuvenation to charge up the inner selves is must… Yes, I am taking about SPA… I have made a habit of getting a spa at least once a month to pamper by body fully and letting it relaxed. By this way, I avoid my joint strains, body aches, tensions and headaches that take place during work hours… In the same way, hair spa also can offer your mind and head a relaxing & soothing session. Many of us feel covetous with ladies having beautiful hair with perfect waves and bounces. Well, you can too transform your hair from dab to fab by giving a SPA treatment to your hair to cater all the basic needs.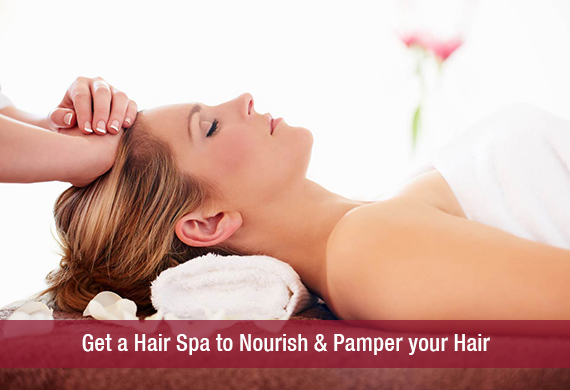 Why to Go For Spa Treatments?
The pros and good points of hair Spa are paramount, specifically for those people who do not indulge in homemade treatments and procedures for complete hair care… Do you want your hair messed up with yucky flakes? Would you like your little negligence to cause severe hair loss? Do you like knotty, tangled hair which has lost all the shine and life? Well of course NOT…. In fact no one does. That's why a hair Spa is all what you need.
Benefits Associated With Hair Spa Procedures…
The hair spa treatment conditions your scalp, while leaving it free from chemicals and pollutants which seep into the hair from air pollution and products.  Depending upon the type of problem you have, be it the dry hair, split ends, baldness, dull hair, dandruff, baldness, the Spa treatments can help with these hair troubles.
Hair massages are usually incorporated into hair spas to circulate nerves in scalp area, thereby inducing the blood flow. This not just helps to grow hair, but also makes them more vibrant and shiny. It can even sooth the senses and recuperate the deadbeat insides.
Spa Treatments can even encourage individuals in opting for correct and healthy eating habits.  I remember I was being offered green tea once I was done with my spa treatment. You know after the spa treatments, you can feel refreshed and rejuvenated. The spa not just improves the entire health, but also your skin and hair. No matter which trouble you lay out before the specialists, they always have a way out to convince you to keep on coming again and again.
Would I Suggest Anyone for this Treatment?
Of course…I mean all those who can afford this sort of treatment should make a trip to hair spa once every 2 months. You will love to see your hair and body after the soothing hair spa sessions.
Image Source : 1