It's that time of the year again! And we want to be stay prepared and protected. Follow the easy skin rules and dish out the skin saving tips. Read on and explore………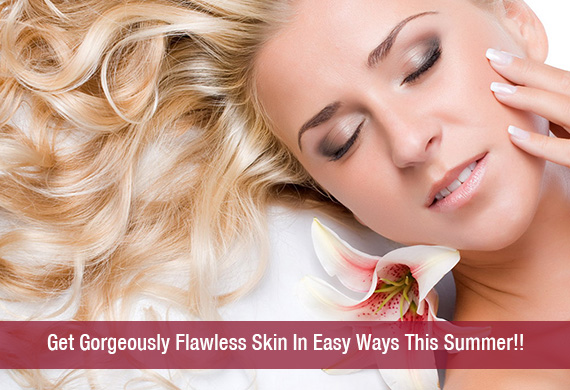 Wear Sunscreen Daily!!
Sun can really wreck havoc on our skin. And hence it gets very essential to use sunshields during the harsh summer months! Make sure to wear sunscreen with broad spectrum and anti-ageing ingredients to keep your skin looking youthful.
Sport Your Sunnies!!
Ladies, do you know but sunglasses with UV ratings? If NO! Then get yourself one now! Always try to wear glasses with a UV 400 rating that can totally shield your eyes. Yes girls, even eyes can  get sunburns….a  very recent study have revealed…this isn't it! This can also lead to deadly diseases like cancer. So, make sure to buy a quality shade this time.
Reapply SPF Every 2 Hour If Outdoor!!
With summer comes the season of sports, sand and water. And while you are relaxing in the beach…your sunscreen can melt out leaving you unprotected. So, ascertain to apply sunscreen every 2 hours.
Switch to Cleansers!!
Our body produces much more oil in summers as compared to the winters. This can even trigger breakouts. Moisturizing, cleansing and toning are the three golden rules to avoid pesky pimples. It clears the dirt keeping the skin pores free.
Protect Your Pout!!
Always use SPS infused lip balms, lippies and glosses. Best is to opt for SPF 30 lip product range.
Seek Some Shade!!
Avoid going out in the heat, especially during the mid day. Thought it's kinda difficult…but try to stay indoors. And if you have to step out, don't forget to apply some sunscreen.
Go For Faux Glow!!
Try your self-tanner instead of sun bathing this summer. Spray some sunless tanning spray that will give you that added glow which is one shade darker than your natural complexion.
Smooth Your Soles!!
Make sure to use a pumice stone every day before stepping out of the shower. It will keep your heels soft and smooth removing the dead and rough skin. Apply some moisturizer later.
Shield yourself from the harmful summer heat with the aforementioned tips. Stay healthy, Stay protected! Enjoy!
Image Source : 1