I wouldn't give any points to you for guessing the cooling effects glycerin leaves on your skin! It's a natural emollient, perfect humectants that attracts a lot of water and moisture…it helps to draw a lot of oxygen into your skin…hence retaining moisture levels!! But ladies, little did you knew that you can use glycerin on your hair to retain its luster.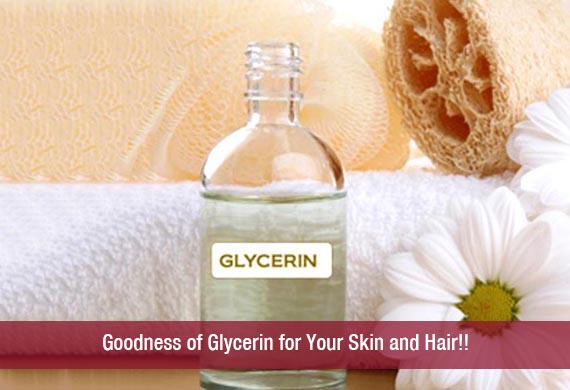 Applying it directly on to the hair will result in a gooey mess…hence it can be used topically on the skin!
Curly Hair…..
They are beautiful to look at but curly hair demands a lot of maintenance!! Yes ladies, they are no way low on maintenance! If I had to describe curly hair in one word…it has to be "frizz"! Glycerin has the potential to draw moisture from the niche into the hair shaft providing complete nutrition to the scalp and hair!! It can work as a very fine conditioner as curly hair is prone to breakage and dryness. This is due to the shape of curly hair is different!
Learn To Whip It Up!!
Just make a hydrating glycerin hair spray (you can get yourself one from the markets as well)!! All you gotta do is make a mixture of vegetable glycerin and water in equal quantities. Shake it well….you can also add three to four drops of essential oils in it and spray it directly on your hair after bathing.
Skin…..
Glycerin helps to mature your skin cells effectively! No, it doesn't mean you will have a ageing skin…no, what I meant was a healthy skin…matured skin cells are really very important to prevent conditions such as psoriasis. Glycerin will augment the healing process of the damaged skin minimizing the chances of bruises ensuring tissue and cell repairs. They are able to repair themselves.
Here's How You Can Whip It Up For Your Skin!!
Just make a mixture of part of honey, glycerin with two parts of milk or water! You can actually add a touch of oatmeal for that thick texture and use it on your face and other parts! Make sure to rinse it off after 20-25 minutes.
A Word Of Caution………..
It is always advisable to use diluted glycerin in dry and non-humid weather to retain the moisture! Or else you will end up with blistered skin and a brittle mane.
So ladies, indulge in the goodness of glycerin today! 🙂
Image Source : 1
Incoming search terms: