Product Claims…
Guerlain liquid eyeliner is specifically designed like a calligraphy tool for precision as well as simplicity of use.  It has a long handle, ultrafine brush and a smart cute look that makes it more appealing and tempting to buy. You are magically turned into artists drawing beautiful curves at one stroke.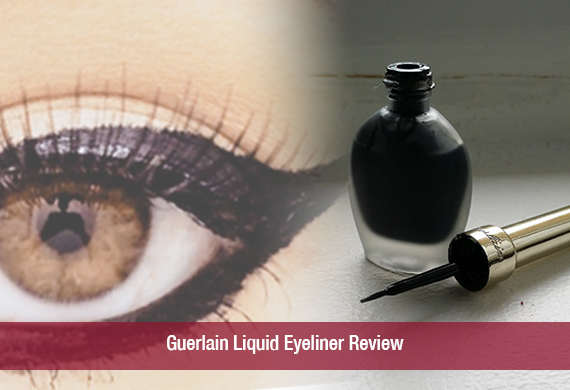 This intensive beautiful eye liner includes natural plant oils in order to fortify your lashes. It instantly gives a dramatic look and a perfect outline. The best part is that it is suitable for lens wearers or sensitive eyes
Price Comparison- Ummnn… since I bought it from France, it cost me around $40….it will be a little pricey to get it here.
My Experience…
If we talk about carrying make up, one facial feature which I emphasize on the most is my eyes. Though I don't have so-called 'perfect eyes', i.e. bright and large eyes, I have a tool which beautifies and accentuates my eyes very cleverly. …My GUERLAIN LIQUID EYELINER … Even if I skip applying my concealer or foundation, I would never be caught dead without a beautiful thick layer of eyeliner. After all, eyes are the most expressive feature and if defined perfectly, they will speak more about you.  J
I was sooooo very keyed up about getting this eyeliner because i've tried pen-form eyeliner (Maybelline eyeliner express) and gel pots (Bobbi Brown) and neither of them gave the desired precision of sharp, ultra clean and fine lineL. But the intense inky blackness and high pigmentation of this Guerlain eyeliner is just awesome.
This is a perfect eyeliner for a well groomed and very sophisticated look. It's exactly a liner you'd wear to a party, in the office, or when you know somebody is gonna scrutinizing your eye makeup closely….
Its packaging looks very cute, enticing and is quite glam. The long gold handle is just mind-blowing. The applicator's nib is so tiny that I find it simple enough to apply a satisfactory sharp, clean and tiny line.
Photos and Swatches…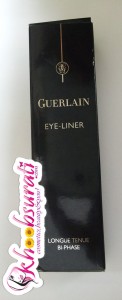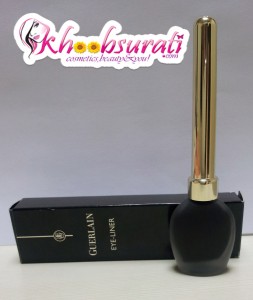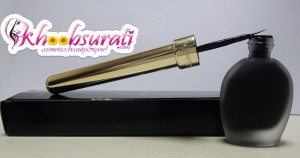 What I like About This Product ……
Its attractive and alluring packaging… I have never seen such cute eyeliner…
The eyeliner lasts good…
Very simple to take off by using eye makeup remover
Though I have sensitive eyes, I've never experienced irritation or itching
What I do not like abt. This product…….
It is hardly available in India L… and I have no plans to visit Paris soon… I wish this gets easily available in our country too…
Ummnn…. It's a bit pricey….
I am really happy with this product…Whenever I'm going out for a date or for a party with pals, every time I apply this eyeliner and look beautiful and stunning. Together with being the very first attraction for guys, my eyes can take everyone's breath away. I don't know whether I'll be able to get this liner again, but yes if I would be given a chance, I will definitely buy it…