While there are certain foods that can actually deteriorate your stamina…there's a list of healthy foods that can do wonders for you! Healthy foods augment your energy levels while building up your stamina! So, for a healthier tomorrow, you need to foods that are specifically designed to give you complete energy giving you a feeling of being full all through the day! Protein, carbs, fibers, Vitamin C is really important for everybody who are into sports!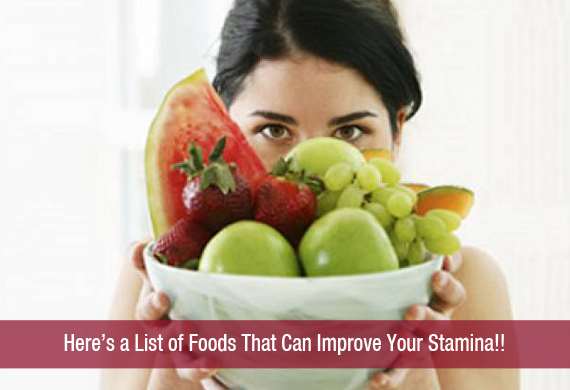 Essential Nutrients…
Complex Carbs!!
You just cannot miss on the complex carbs when it comes to building stamina! They are the main source of fuel for your brain and body. You can easily get these carbs from glucose that provides instant energy….yes ladies; pasta, bread and rice should be totally avoided if you don't wanna feel dizzy and doze off at the end of afternoon.
Vitamin C!!
It can readily strengthen your immune system and protect you from infections like cold and cough sapping your energy to the peak! Thus indulge in the goodness of fruits and vegetables that is rich in Vitamin C.
Proteins!!
It is one essential nutrient for repair, development and growth of muscles and certain body tissues. Proteins are also believed to be efficient fat and calorie burners. So eat meat, fishes, eggs and nuts in your day to day routine.
Iron!!
Lack of iron can result in minimized stamina! Meats, beans, nuts, broccoli and spinach are considered to be the finest source of iron. You can also try some supplements but it is best to consult a doctor before that!
Foods That Can Help You Build Stamina…..
Oatmeal
Beans
Coffee
Green Leafy Vegetables
Bananas
Peanut Butter
Lean Meat, Chicken, Eggs, Fish
Red Grapes
Beetroot Juice
Quinoa (Bathua saag)
So ladies, these are the foods that you can indulge in to for elevating your stamina to its peak. Have fun!! 🙂
 Image Sources — 1
Incoming search terms:
stamina foods list (101)
stamina food list (37)