Well, I won't be telling you how can you look sick to avoid work, but can help you with the other way around. I mean, you can be taught how to look pretty and beautiful even when ill and even when your illness has sucked up your looks and made you look pale. Nobody enjoys running nose and sneezing….and so here I am today to explain the famous beauty remedies. Get on the ride to know them…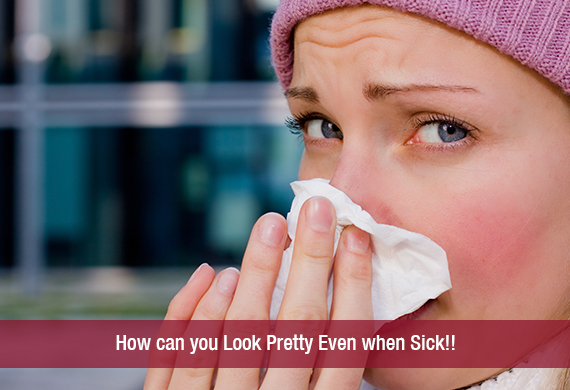 Cure your winter blues with the ideas I am going to tell you now!
Moisturize and Moisturize!
Want to look pretty and flawless? Then apply moisturizer to make sure you still love your skin. I know if you are ill, then looking beautiful would be the last thing on your mind, but medication can badly dry your skin, so applying a moisturizer can be a quick fix for you.
Drinking lots of water and guzzle down herbal teas instead of coffees would not be your choice but doing that will help you fight sickness and make you look better. So if you drink ample amount of water then you can surely enhance your good looks.
When you are sick, your face looks pale and out of energy, so what could you do? Use an instant blush to fight dry and lifeless skin. Take out your favourite bronze colour blush and bronzer and combine them to apply to your skin. This will get you an oomph factor! P.S. Prefer a creamy blush to make it look shiny.
Due to medication, eyes can be drained out of energy and look red, but do not let that ruin your beautiful face. Keep natural eye drops handy and use them to make your eyes look clean, moist and sparkly! This will help you stay good and you would feel better!
To look good, you can use concealer that will help you fight dark circles that have occurred because of lack of sleep. Use a green based or yellow concealer to lessen redness on your face.
To look good give yourself a nice steam treatment. This will help you get a fabulous looking skin and also is helpful in treating sinuses. You can make your experience more luxurious by including eucalyptus oil. So get going gal and stay beautiful 🙂
I am sure you will perform these actions in order to look good as girls can do anything to look beautiful all the time. Cheers to the never ending spirit! 🙂
Image Source : 1