Grey hair is a nightmare for every single woman. This is one condition that has to happen at some point of time in our life! While some women experience graying hair in their 50's, there are some ladies, who have started complaining of the same problem in as early as their 30's. Yes dearies, premature hair ageing is gaining a pace…with the hush-hush routine, we completely ignore the nutrition required for our hair and hence you end up with a bunch of white hair! Don't fret…read on and figure out the possible solutions that will delay the process. Take a look…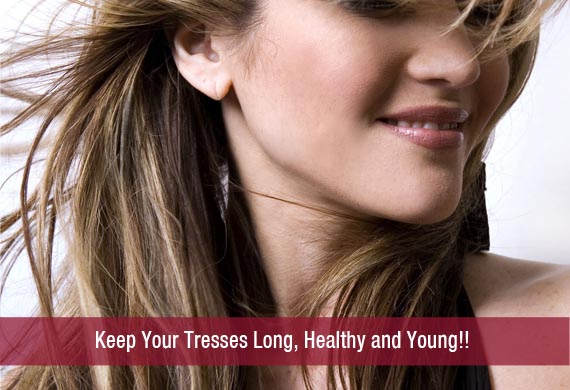 Graying isn't just about losing the natural sheen and color of your hair but what makes it even worse is the fact that they are accompanied with dull and thinning of hair. 🙁 The rate of growth of hair slows down with age and hence the hair that falls out naturally won't get replaced. Therefore, proper care of scalp and hair is the only conceptual solution to this problem.
Tips that will keep your hair healthy and at its best irrespective of your age…..
Keep Stress At A Bay!!
Stress continuously triggers the secretion of adrenaline that is responsible for converting androgen thereby causing excess hair fall. It is essential to take some time out for yourself….pamper your hair with a spa treatment, hot oil massage. Indulge into meditation, yoga or something as trouble-free as bubble bath.
Lock In The Moisture!!
Moisture is the master key to beautiful long tresses when it comes to caring of it! Hairstyling and harsh products take all the moisture from your hair. So, try to limit it to the special occasions only! Switch to no heating settings and throw the iron rods and straightening rods in the bin.
Pack Of Protein!!
Make sure to opt for protein based hair products that will ensure hair shafts and hair breakage. Lean meat, tofu and eggs are some of the edible sources of protein.
Ladies, you deserve some attention…don't be so ignorant while fulfilling everybody's demand. You are special…pampering yourself at times can get fun and it's really good for protecting those lovely locks. Take care. 🙂
 Image Sources — 1