It's itchy, it's annoying and it's embarrassing… borne it enough!! Now is the time to kill those ugly white flakes that inevitably show up and turn your little black dress to a fashion disaster or ruin your romantic date the moment you try to get cozy. Dandruff may not be a serious health problem, but all those who suffer from this irritable problem are well aware that it's pretty much uncomfortable.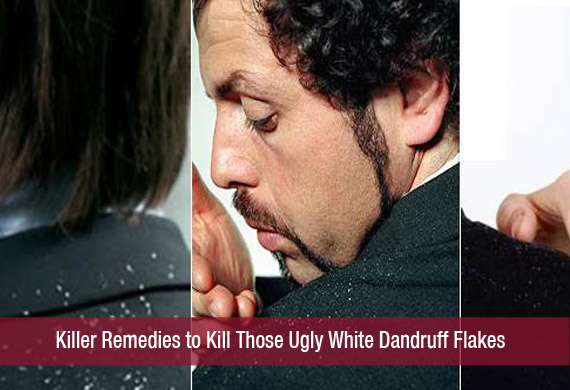 Let's get to the root of the problem, discover its causes and then get rid of it completely once and forever. Dandruff is basically dead tissues of your scalp that starts flaking when your scalp turns extremely dry either due to fungal, bacterial infection or at times even on its own.  Every time you comb or brush your hair, these unsightly flakes become more visible and even more annoying. Dandruff is mainly of two types it may be dry dandruff in which white scaly tissue flakes off with itching or waxy dandruff where the scaly tissues get mixed with oily scalp and become thick and patchy.
The onslaught of dandruff is primarily due to a faulty lifestyle, poor nutrition, cheap shampoos, unwashed scalp and unclean combs. Indigestion, stress and emotional tension also aggravate the problem.  Mother Nature has myriad of deadly remedies to slash away these dandruff flakes and get you a clean and healthy scalp.
Olive-Almonds: A blend of equal quantities of almond oil and olive oil is a great way to rip off these hideous flakes from your scalp. Use this mix to massage your scalp for five to ten minutes and then wash it off after some time for dandruff free shiny hair.
Methi: Soak two tablespoons of fenugreek seeds overnight and then the next morning grind and make a paste out of these softened seeds. Apply this paste on your scalp thoroughly and leave it on for about thirty minutes. For best results wash it off with a Ritha or Shikakai solution.
Lime: Squeeze on and massage a little lime juice directly on your scalp. Leave it on your scalp for about fifteen minutes before washing it thoroughly. Try this trick every time you spot dandruff in your hair. This is an incredibly fast and easy way to eliminate dandruff completely.
Cider Vinegar: Mix equal parts of apple cider vinegar and water and leave this mixture on your hair for a few minutes. Rinse your hair thoroughly to wash away all the flakes. Alternatively, you may try adding a small amount of cider vinegar to your final rinsing water; it's also an effective cure for dandruff.
Eggs: Beat two eggs and add some water to form a mixture. Apply this mix on wet hair and leave it on for fifteen minutes before rinsing it out with lukewarm water. It's a great remedial for both dandruff and hair fall.
Apart from these tricks, try hot oil therapy and hot steam bath.  I assure you will love your dandruff free healthy hair.
 Image Sources — 1
Incoming search terms:
how to avoid ugly dandruff (1)