Sunscreens, sun blocks, sunglasses, scarves and a zillion such things to save you from sun… and  you may have tried them all, but while having fun in the summer sun, it's hard to escape from the sun tan especially when you are out on a holiday! Well, the summers are over, the party season is on and you sure want to look your best. Brown tanned skin is far from being attractive and if you are just waiting for the tan to fade on its own, it may be too late. Take charge and get gorgeous now!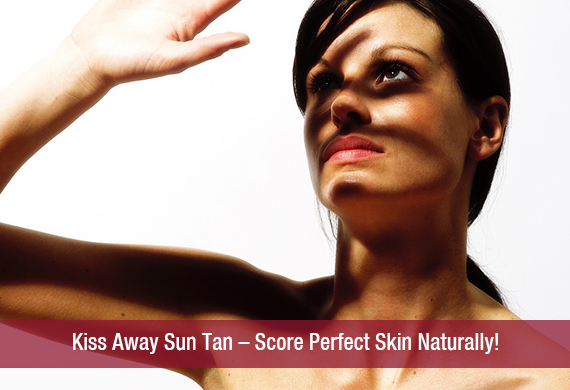 Anti-tan lotions and potions may cut a huge hole in your pocket. This time why not heed to your kitchen, may be you find the cure for your tanned skin right there! Check out a few home remedies to get rid of sun tan and uncover a perfect radiant skin.
Lemon juice has amazing skin lightening properties. You just have to cut a lemon into two halves and massage it all over your body for about five minutes, before shower. If a darker tan is bothering you, extend the massage to about ten minutes for better and faster results.
Form a thick paste by grinding together potatoes and a few drops of lemon juice. Slather this mask on your face, neck, arms and all the affected areas. Leave it on for twenty minutes and then use cold water to wash it off. Repeat this twice a week for optimum results.
Yogurt is a fabulous facial cleanser that gets you baby soft skin while eliminating all signs of dullness, darkness and fatigue. Simply apply this deep cleanser daily to get a fair, flawless skin day by day.
Apply mashed papaya pulp on the tanned skin daily to lighten your skin.
Gram flour mixed with rose water is a great face pack to de-tan skin.
Mix finely milled almonds with plain yogurt, oatmeal and milk to form a fine paste. Use this as a face pack and let it dry for about thirty minutes. Wash it off with warm water for squeaky clean skin.
Rinse your sun tanned skin with coconut water regularly to get back that milky white skin.
Tomato juice when applied on your skin daily will greatly reduce the corrupting effects of sun tan.
Aloe Vera is another great remedy for sun tanned skin. Use a little Aloe Vera daily before you snuggle into your bed.
While these tips may guide you to get back your natural skin, being sun safe is still all the more essential even in winters. The harmful UV rays may cause skin related problems and in severe cases may even lead to skin cancer. Wear sunscreen with at least SPF 15, stay away from direct sun and keep yourself properly covered specially during peak hours.
Image Source : 1