Fair body and fair face but, what about those black stained elbows??? Does your elbow match with the complexion of rest of your body?? It hardly matches, right??? It's enough of those black stained elbows which make your hand look ugly. Time to get rid of those ugly black elbows with these easy and very simple tips!
Tips and tricks to say goodbye to black stained elbows…..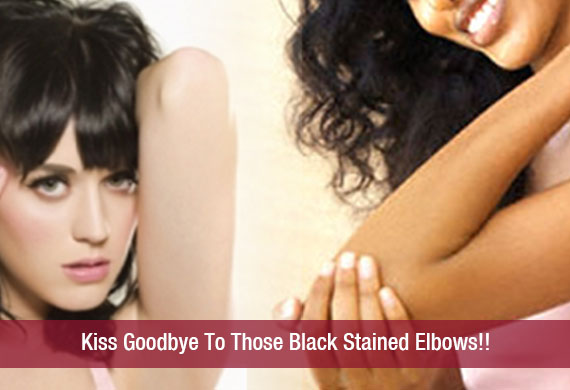 Lemon and Lime!! 
Go the lime way! After taking the shower in the morning, apply lemon juice on your elbow. Let it rest for at least 15 minutes. Scrub your elbows with a clean towel soaked in hot water. Your elbows will get better with time. Or, do one thing. If you do not have enough time in the morning then just make a cream. Mix half teaspoon of lemon juice and glycerin. Apply it every night. See the difference over the time yourself!!!
Turmeric and Curry!! 
So, let's do it in turmeric and curry style. You just need to combine a paste of I tablespoon of turmeric and four curry leaves in a bowl. Apply the mixture and keep it for 15 minutes. And yes! Make sure that when you wash it, you wash it with warm water. Don't worry if you don't have curry leaves. You can use mehendi leaves. It will perform the same job.
Go Green!! 
Combine 100 grams of dried basil leaves, 100 grams of neem oil and 100 grams of fresh mint in a small bowl. Hmmm… I guess, if you'll add a little turmeric powder and one tablespoon rosewater to the mixture then, it will be much more effective. Now, the complete paste is ready. Apply it on your black elbows and let it sit for 15 minutes. Then Wash the paste off.
PS- If you are wondering about the neem oil, you will get it in any international grocery store.
The Saffron Touch! 
Now, when you have removed those black stains from your elbows, you need to show them a red signal and stop them from coming back. For that, you need to prepare a paste of one teaspoon honey and I tablespoon of saffron, just apply it once in a week. Also, make sure that you apply a moisturizer on your elbows after every shower.
So, indulge in the aforementioned tips and bid goodbye to those pesky, eerie dark elbows- forever!!