Product claims…
Lakme Absolute Forever Silk Eyeliner Blacklast is enriched with vitamin E to keep lids smooth and soft. It glides effortlessly on your lids. This eyeliner is water resistant, smudge proof and lasts for upto 8 hrs.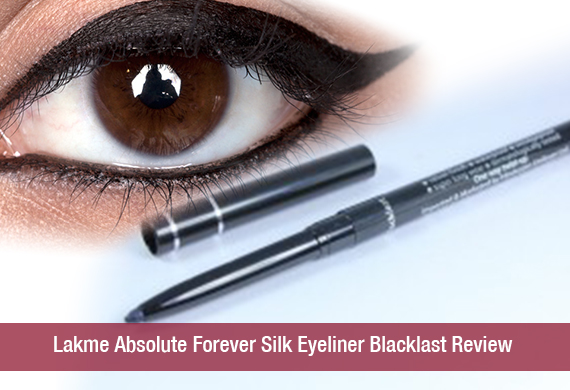 Price Comparison…
The price of this product is Rs. 395 for 0.28 gms
My Experience…
I am in love with the color of Lakme Absolute Forever Silk Eyeliner Blacklast. I have been wearing it for the past 2 weeks and I simply love it. Blacklast is a dark black color eyeliner. It is very soft, creamy and glides easily on your lids. It gives rich color in just one swipe. This eyeliner gives a pretty look to my eyes.
It stays on my lids for more than 8 hrs even without a primer. The good point about this product is that it is totally waterproof and smudgeproof.Since it is waterproof, you don't have to worry about getting it washed off due to sweat. My lids are lil bit oily, but still the eyeliner has never failed me. I noticed that when liner is freshly applied, it transfers on my upper lash line. But once it sets, it sets for the entire day. If I apply it on my upper lash line, it doesn't sting your eyes.
I don't apply this eyeliner on waterline. It gives a bad burning sensation. So. I apply on lashlines only. You have to be careful while twisting your eyeliner, as it cannot be twisted back. But one thing which I don't like is that you cannot sharpen it, so you cannot get thin line.
It comes in a black outer casing. Its packaging is very sleek.
Photos and Swatches…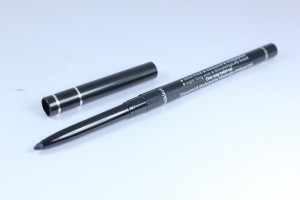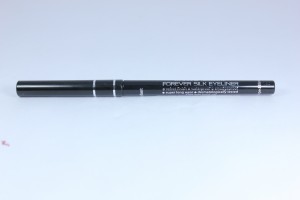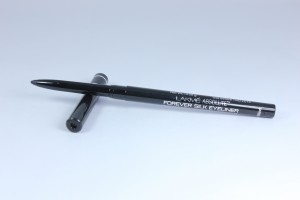 What I like about the Product
It has a soft creamy texture
Enriched with vitamin E
It gives you a velvet finish…I like that…
Water resistant and smudge proof
It doesn't sharpen…that means less product wastage
Gives rich color in one swipe… No need to apply eyeliner again and again
What I do not like about the Product
Since it is a twist up eyeliner, so, you cannot sharpen it.
It is too tough to draw thin lines in the inner corner of eyelids with this liner
If you rub eyes, then it might get rubbed off.
It cannot be used on waterline…use it carefully…
Overall I love this liner. It is supersoft and gives a velvety finish. I will buy more shades, but I would always buy this black eyeliner. So, go ahead and grab it!
Incoming search terms:
lakme absolute forever silk eyeliner (23)
lakme forever silk eyeliner (13)
lakme blacklast forever silk not rolling (2)
lakme absolute pencil eyeliner (1)