Can you imagine using a few of the most common household products for beauty? It definitely sounds crazy but actually isn't. Here's a list of some simple and cost effective household beauty fixes for all your beauty dilemmas. Getting pretty with pennies, you just can't ask for anything more, can you?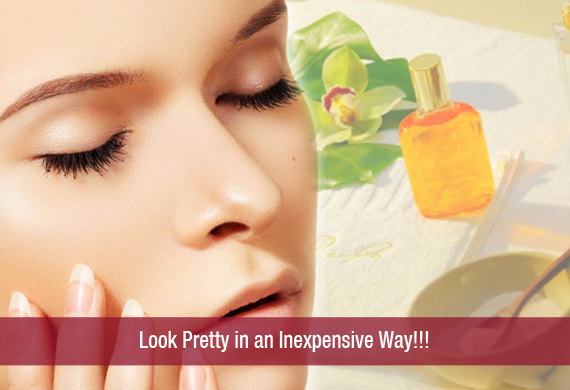 Baking Soda…
This is one of the multipurpose household products which can be used for beauty. You can either use it for teeth whitening by sprinkling a little on your toothbrush or mix it with a little water and apply on your skin to get rid of zits or even use it with honey as a scrub! So no more wasting baking soda to deodorize your fridge, use it to enhance your beauty.
Olive Oil…
This is yet another inexpensive household item which is not only beneficial for your body but it's also an amazing skin care and beauty product. Many of us for sure use olive oil as a natural moisturizer or to treat scalp or even to remove eye makeup. Besides these, you can use also olive oil as body oil to get an incredibly glowing skin.
Cinnamon…
If you want to spice up your beauty, use cinnamon! Cinnamon is an amazing product for beauty. Besides its great taste, cinnamon can also give you a clear, blemish free skin. All you need to do is combine 1tsp of cinnamon with 3tsps of honey and apply it on the blemishes at night, leave it overnight and rinse it the next morning for a clear looking skin.
Toothpaste…
All of us are aware that toothpaste is a classic kitchen beauty treatment for acne but what most of us don't really know is that it can also do various other things which are least expected such as cleaning and whitening nails or even soothing a burn caused due to a curling iron.
Petroleum Jelly…
Petroleum jelly has been used since ages and this household beauty secret is loaded with benefits. Before you start your manicure, you just have to dab on some jelly onto your cuticles, this will wipe away any mistake. This household product can also help in avoiding blisters on feet caused due to the painful shoes. You just have to apply it on the problem areas and mind you suffering for the sake of fashion isn't a good idea!
This list of inexpensive household products proves that natural and economical beauty fixes are not only found easily in your home but can also work wonders for your beauty.
 Image Sources — 1