Product Claims
Lotus Herbals Neemwash is described as an innovative face wash that is enriched with the goodness of neem and clove. Neem slices and clove extracts contained in this antiseptic face wash provide your skin the ultimate anti-microbial protection. It is an excellent face wash that deep cleanses your skin and cures blemishes, acne, eczema and psoriasis.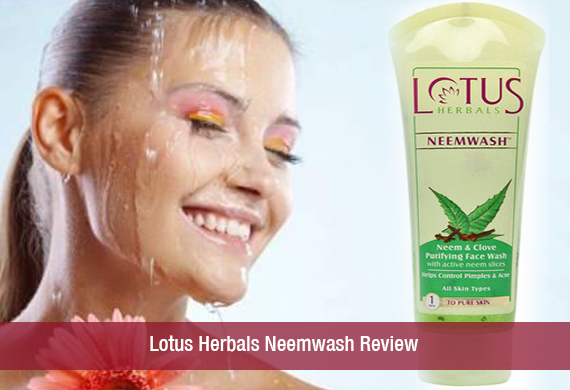 Price– Rs 110 for 80 gm
Shelf life– 3 years
Active Ingredients– Neem extract, active neem extract, clove extract.
My take on Lotus Herbals Neemwash
My skin was breaking out a lot recently. Every morning I was waking up with a new huge and ugly pimple, thanks to overactive sebaceous glands. Maybe it's the corrupting hormonal imbalance or just that I was taking a lot of stress. My mom gave me Lotus Herbals Neemwash to cure those horrifying acne. This face wash claims to contain active neem slices that have amazing anti-microbial properties. It is a fairly good face wash that actually abated the appearance of acne on my face.
This face wash comes in a clear and convenient, easy to carry, transparent tube, and you can actually see the neem slices in it. The face wash is clear with a greenish tinge and the texture is almost gel like. It is very refreshing and soothing face wash that has herbal neem like fragrance. It lathers well and therefore even a pea sized amount can make your skin squeaky clean. And what's more, the product cleared up all my acne and that too within four to five days. The neem slices are hard to crush, but the face wash is laced with all the essential benefits of neem and clove. I must say, I really liked the product.
Although Lotus claims the face wash to be good for all skin types but it's going to be extremely drying for people with dry or sensitive skin. Well, any acne fighting face wash has to be a little drying so as to be effective.
Photos and Swatches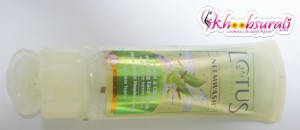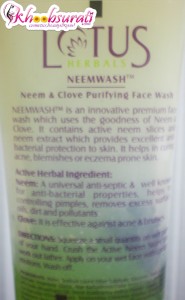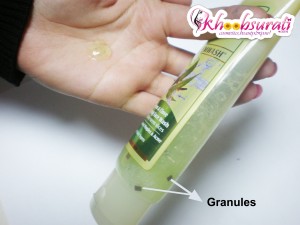 Pros and Cons of Lotus Herbals Neemwash
What I liked about the product
A refreshing and purifying face wash
Deep cleanses your skin
Gel like texture that lathers well
Clears acne and blemishes
Provides anti-microbial protection
Soap free, herbal product
What I didn't like-
Active neem slices are difficult to crush and are therefore rendered useless.
A little drying for people with dry and sensitive skin.
Bottom Line:
Overall, I will rate it as a good, purifying and soothing face wash to get rid of acne and other skin troubles, especially for people with oily skin. Go ahead, try it!
Incoming search terms:
lotus neem face wash (77)
lotus neem face wash review (71)
lotus neem facewash (24)
lotus neem facewash review (11)
lotus herbals neem face wash review (2)
lotus neem clove face wash review (2)
lotush neem wash (1)
lotusneem face wash price (1)
review of lotus neem (1)
lotus neem face wash in hindi (1)