I know you have already started planning for your November wedding day! Well a perfect  wedding day is every gal's dream and it's no shame if you wanna preserve it for your lifetime. And hence wedding photography is a crucial part too besides following the latest fashion and beauty trends! Take a look and find out things you should keep in mind while creating your wedding album! Read on…..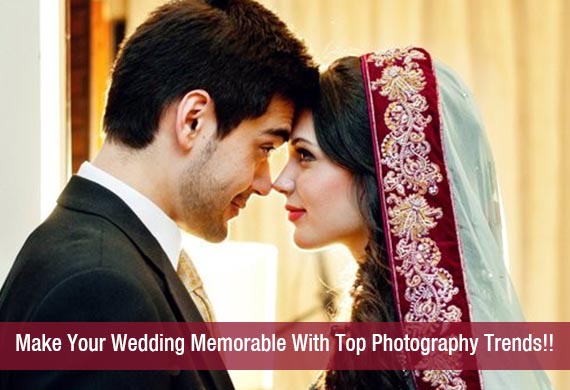 In the past few years, the meaning of wedding photography has changed in the past few years! The decision of choosing a wedding photographer should be solely left on the couple…it is there day and the love birds have all the right to choose the best for them! We are photo savvy and couples want their every single moment to be captured. What Is The Newest Trends In Wedding Photography? There is a very immense rise of candid photography as well. Couples today's want their candid moments to be captured as well despite the regular wedding photography!! And therefore, the to-be-weds want young photographers to shoot their wedding moments perfectly. They find themselves at ease! Instant printouts are another rage among couples and their families. Photo booths are set up in weddings and the guests are offered with instant printout of their captured moments. Yes ladies, this is taking a huge rage in several metros and some cities! With "candid photography" becoming popular among the youths, there is a vogue for women photographer for capturing intimate moments of the bride. Are People Really Opting For Newer Options? The so called photo books are thrown out of window…especially poorly designed pics that are pasted pages in different pages! There is no spark in those albums…no element of storytelling. They are…umm…just plain! No more, you get personalized choices…the young couples want their pictures absolutely perfect! You get the options for theme based albums in different materials that add that really oomph factor to the complete look! So let's "tell a better story" via your D-day album! Basic to Be Kept In Mind While Choosing a Photographer…..
Make sure whether the photographer or his assistant would be taking the pictures of your wedding
Make sure whether the photographer has any experience in the field of wedding photography
Ask him whether he has ever shot in venues anytime
Make sure whether you will get layouts of the album before finalizing it
Make sure of the delivery time
You can really make your wedding a memorable one with the aforementioned tips and tricks of photography trends!!
Image Source : 1