Facial Moisturizers are an integral part of basic skin care. Deep moisturizing your skin certainly makes it soft smooth and vibrant and everyone loves that. It protects your skin from harsh environmental irritants by sealing it with all the essential moisture. There is no better way to pamper your skin than to slather a rich moisturizer. I love to treat my skin with an intense hydrating moisturizer, and it pays off ultimately. Here is a list of a few tips to help you optimize your facial moisturizer and get that terrific gleam on your skin.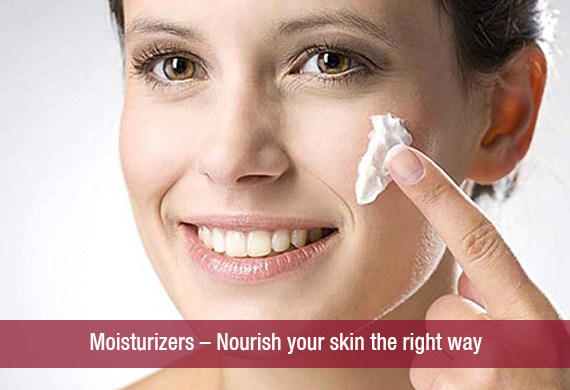 Pick the right moisturizer
Know your skin and opt for a moisturizerthat benefits your skin the most. Oil based moisturizers are perfect to soothe dry skin, while oily skin needs to be hydrated with water based formulations. If signs of aging have already begin to show up, moisturizers with anti aging properties will be definitely a smart choice to keep your skin youthful for years to come. Like me, if you are a no makeup girl tinted moisturizers are worth investing. They give your skin a sheer hint of color, along with a fresh, healthy glow.
Seal your damp skin with moisture
When you apply moisturizer to dry skin, your skin is not able to lock in the excess moisture, and your moisturizer may not help to its full potential. To make the most out of your face moisturizer, always apply it immediately after cleansing your face when it is still damp. This helps to trap the moisture in the upper layers of your skin, and slows down the moisture loss. For the best effect, cleanse your face first, and then apply toner, and when your skin is still damp with toner, straight away put on your favorite moisturizer. But please don't apply moisturizer on wet skin; otherwise it will just slither off. Wait for a few minutes, let your moisturizer dry first and only then apply foundation.
Why use a night cream?
Skipping your night cream may be a tempting thought, especially when you are so tired at the end of the day. Getting yourself a good night cream, helps you to repair your skin with its nightly rejuvenation process as all the essential nutrients are best absorbed when your skin is free from external influences. Some people use day moisturizers at night, but this is not the right thing to do. Day moisturizers contain SPF protection, and using it at night may eventually lead to clogged pores.
Avoid moisturizers around your eyes
Wondering if eye creams are a necessity? We usually face this dilemma. No doubt, applying a special eye cream is annoying and we usually don't have enough time but your eyes deserve special care too! The skin around your eyes is delicate and sensitive, and your facial moisturizers are too heavy. The rich formulation of moisturizers can cause fluid retention and puffiness around your eyes. Get yourself an eye cream.
The right technique of application
Scoop a pea sized amount of moisturizer onto your palm, and run your hands together to warm the moisturizer. This way your moisturizer will spread easily and your skin will absorb it better.
Your cheeks are usually drier than the rest of your face, so massage it first on your cheeks in small circular movements and then apply it on your forehead, nose and finally on your chin.
Don't forget to extend it to your neck.
Earlier, I used to apply my moisturizer with five dots on my face, but my face ended up feeling oily. Too much of moisturizer may clog pores and lead to breakouts. This method prevents your skin from being too sticky as the moisturizer spreads evenly all over your face. And yes, it saves your moisturizer too!
Image Source : 1