Breast cancer is quite a common and the most dreaded issue among women. She is at a lifetime risk of falling into the clutches of this deadly cancer. However, men have also suffered from this type of cancer.  But why are women at a risk? The simple reason is that women have more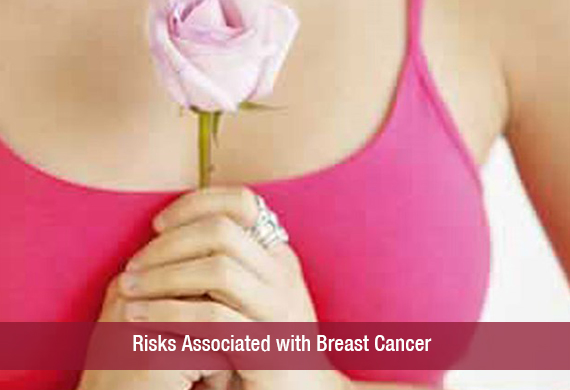 Besides these there are many other factors which contribute to the condition of breast cancer in women. What are they? Read on…
Discover the main Risk Associated with Breast Cancer in Females.
Women who have dense breasts can also suffer from breast cancer. Dense breasts are complicated to deal with. Hence, the doctor may find problem locating the changes in the mammogram.
Aging is one factor that leads to diseases like breast cancer. Most of the breast cancer cases are found in women above the age of 45 years. About 10% of breasts cancer cases are hereditary.
The food you eat may also contribute to the formation of cancer cells in your breasts. Too much of fatty diet make one prone to such deadly diseases like cancer. Irregular dietary practices including too much of oily foods, processed foods, are at a higher risk of getting this type of ailments.
Besides, alcohol is another cause of increasing cases of breasts cancer. The sedentary lifestyle that one is accustomed with has caused the most devastating effects on women's health and well being. Apart from this, consuming alcohol daily leads to increase in the level of stress.
Overweight bodies are at a higher risk of breasts cancer. Normally post menopause, the level of estrogen rises up, which makes way for excess fat tissues in the body. Besides, along with this, the level of insulin in the body increase when there are excess fats in the body. Thus, women easily become prone to these complications in her health.
According to several studies, it has been found that women who use contraceptive birth control pills are vulnerable to this type of breasts cancer. In addition to these women who gave birth to their first child after 30 are at a risk of breasts cancer. Becoming pregnant at a younger age reduces the risk factor of breasts cancer.
Apart from these causes, women who work at night are even prone to get this type of diseases. This is because it affects the hormones in the body and leads to deterioration of your health and well being.
Image Source : 1