Hair plays a major role in defining the personality of a person. Women usually consider hair as an important feature of beauty. However, proper hair care require following few simple steps like getting basic hair care and following proper regimen on a regular basis.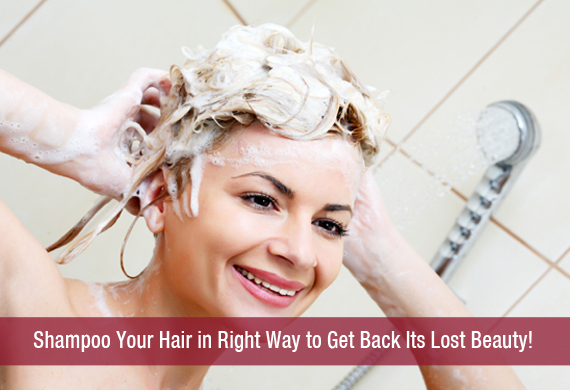 Shampooing hair is very essential. You should use a shampoo that suits your particular hair type. Shampooing should be followed by conditioning to nourish hair so that it looks glossy and healthy.
To treat your hair well, you need to understand the types of hair first i.e.
Dry hair
Greasy hair
Normal hair
Identifying your hair type helps in envisaging the hair washing needs…
Dry hair looks very dull and rough and often gets entangled, frizzy and more prone to split ends. Combing dry hair is obviously a tough job. Dandruff is something that bothers such type of hair very often.
Greasy hair looks flat. It looks as if it lacks volume and even appears oily even after you shampoo your hair. This type of hair is difficult to be styled. In fact, this type of hair requires frequent washing in comparison to other hair types. However, washing hair with a proper shampoo can help to get out of this problem.
Normal hair looks healthy and doesn't appear either too dry or too greasy. This hair makes styling a comfortable job. Washing this type of hair with shampoo and conditioner, especially those which are specifically meant for them will help your hair.
How to Wash Hair??? The Right Way is Here for You!!!
It's very essential to shampoo your hair in a very gentle and proper way because wrong technique might damage your hair. Here are a few guidelines to help you wash your hair and keep them healthy-
Firstly, rinse your hair with warm water so that they are ready for shampoo
Take sufficient amount of shampoo depending upon the length and volume of the hair and finally create foam.
Start by applying shampoo from the nape of your neck gently and move in right direction by using your fingertips. Ensure proper & even massage throughout your hair to remove dead skin cells
Run water all through the hair along with rinsing and stroking continuously in the downward direction. Rinse your hair thoroughly so that that there is no lather left.
Do not pat dry the wet hair roughly as it may cause hair damage.
All in all, pamper your hair with utmost care and nurture to get exactly the type of hair you want!