Besides getting each other's names tattooed, couples nowadays have several options to avail from! Yes ladies….I have talked to like 100 people almost who would give a second thought about permanently attaching their loved one's name on their bodies! Getting the same tattoo sounds like a fantastic idea especially when you both know that you are going to be together forever and ever! And it would definitely suck if things don't turn out your way; fret not…here's a list of tattoo ideas for couple that would not be regretted later. Why don't you be the judge? Happy Reading!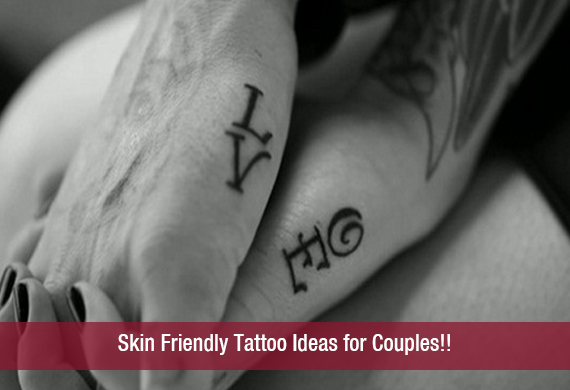 Matching Images….
I have seen several couples with matching tattoos on their arms and trust me, it looks really cute! And can work out really well if not geared to one sex. All you need is a unisex tattoo image to agree on!
Adjoining Images….
A portion of the image is tattooed on one's hand while the other half of the image is positioned on the other partner. I would suggest you to get this done on your arm or legs. Imagine how cute it will look to complete the image by holding hands. Sigh** I guess I should get it done too, only if he agrees.
Phrases….
There can be a poem, phrase, proverb that means a lot to both of you…the first half of the text can be put on one person while the other half on other person. Phrases that are completed by you both! Sounds romantic in itself! Doesn't it?
Tattoos That Aren't Identical but Go Together!!
You can try the famous duo of Mickey and Minnie Mouse or one person could have the lock while the other person could get its key tattooed. And the best part is, you will get tons and tons of option in this category.
Anything That Reminds You of Your Loved Ones!!
Just for instance, the man of your dreams loves bikes…get a bike inked on your body and get your guy do the same.
P.S. – don't get too girly while selecting an image for your dude or it will leave him annoyed and irritated.
The ideas I have listed above are just some ideas! All you need to remember is that the tattoos are going to be permanent, so the final say should be yours. In my opinion, making a hasty decision isn't a very good idea.
Image Source : 1