Fashion and style keep on changing and professional clothing is no exception. All those who believe that dressing up in office-wear attire is completely boring, they have probably not yet seen the latest collection and range in this segment of clothing. Today's designers know how to give professional women a stylish makeover with trendy yet elegant professional clothes. The latest styles in clothing for young professional ladies are full of stylish elements and colors which give them a fresh and new appearance. With the popular formal attire options, you may find lots of new formal styles becoming an integral part of women's wardrobe. So let's have a look at them.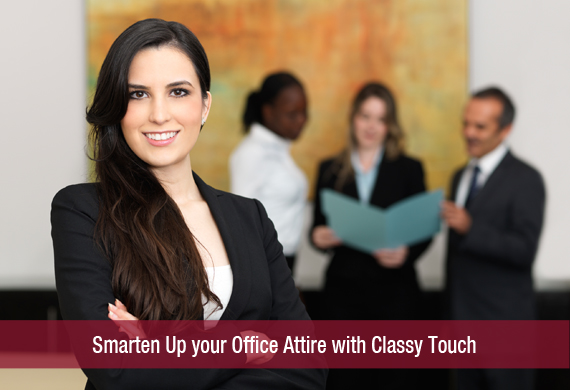 Ideal work outfits for Professional Ladies i.e. Pant Suits
Pant suits are the most popular outfits for young professional ladies. In case you are all set to flaunt them, make sure that you have picked those styles which can turn a traditional, simple pant suit into fashionable attire. You can select fabrics with small plaids, pinstripes and those having a textured look. With shoes, belts and scarves beautifying women's classic professional attire, you can carry a stunning look.
More Stylish and Appealing i.e. Skirt Suits
If we talk about wearing professional attire, many women prefer wearing skirt suits which appear more stylish as compared pant suits. Fabric-made skirt suits not just look expensive, but also give a royal and rich look. Shades of white, gray, blue, black and brown make attractive skirt suits. Pair shirts in sky blue, white, peach or lemon yellow color with your elegant skirt, wear trendy suit jacket and get ready to turn everyone's eyes towards you! s
Formal Skirts Gives you a Sober yet Classy Appearance
In case suits look very formal according to your office environment, then you can shift to formal shirts and skirts. There are various varieties in formal skirts which can emphasize the best in you. Pencil skirts are the most popular stylish professional clothing. Tight-fitted pieces in perfect colors and cuts can surely give you a look which is class apart. Skirts, which are high waist, are a classic comeback and you can get a chance to put on an elegant look with this retro styled outfit.
Trousers are another Good Alternative to Pant Suits
If paired with formal blouses and skirts, trousers are the perfect alternatives to the pant suits. If you want to get them tailored-made, then choose quality fabrics. Nicely-fit, straight trousers with pinstripes will look elegant. Tuck in the decent top wear and complete the fresh professional look with matching leather pumps and belt. Jewelry should be minimal, particularly when you wear some professional outfits.
Trust me; you will enjoy wearing formal dresses with the most recent collection in this segment. When you follow the latest fashion trends or pick popular styles, do not forget the comfort level.
 Image Sources — 1