All work and no pampering make women, dull and less attractive.
Of course it's a distorted version of saying that has made many boys got to play with ever more enthusiasm and excitement. But women however, lag behind most of the time.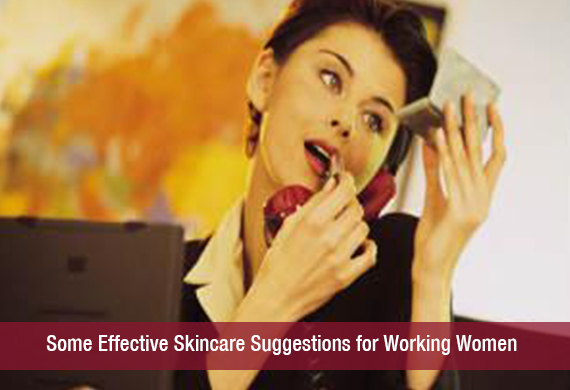 Working women hardly get time to maintain a healthy skin. As a result they face premature aging, dark spots, tanning and other skin related problems.
So, if you're a professional girl with a tight schedule, try these easy beauty tips that you can followed even in your hectic schedule.
1.    Use Sunscreens
Most of the working women work outside so it becomes essential to protect the skin from harsh UVA and UVB rays. Many women think that sunscreens are only for sports persons and people who're stays out in the sun. It's a wrong notion! Apply sunscreen 30 minutes before heading out in the sun. The protective layer of sunscreen prevents tanning and ageing as well.
2.    Skin Cleansing
No matter how hectic your day was, but cleansing is a must for your skin. Cleansing takes out all the impurities of skin and rejuvenates it too. Instead of using soap, use a face wash and cleanse your skin 3-4 times a day to remove out dirt. Excessive washing of face can lead to dry, crack and rough skin.
3.    Moisturize Your Skin
It is one of the easy-to-do skin care tip for working women. After a tedious schedule, apply moisturize to get rid of dry, wrinkled and freckles skin. Moisturizing keeps your skin shiny, smooth and nourished.
4.    Drink Water
The best solution for a healthy skin is drink adequate amount of water throughout the day. Drinking water maintains healthy skin and hair as well. Most of the working women have an unhealthy lifestyle and this affects their beauty. So, to maintain a healthy glow on your skin, drink water and flush out harmful toxins from the body.
5.    Take a Well-Balanced Diet
A healthy and balanced diet is a must for working ladies in order to keep their skin in a healthy condition. Refrain yourself from unhealthy diet as it won't give sufficient energy. Include fresh green vegetables and fruits to stay healthy and have a glowing skin.
Finally, you can also add some good quality products to maintain the beauty of your skin. But the best tips for working women is to take out some time to cleanse, exfoliate and moisturize for a healthier and younger looking skin.
Image Source : 1