Looking for the quick remedy for your sunburn? Wanna enjoy that bronzy sexy Caribbean tan?? So, what are you thinking?? Go and enjoy!!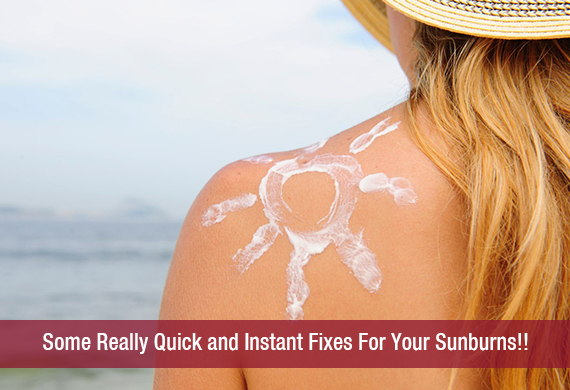 I know, we girls will not find that pleasant if we are going to spend our vacation with that 50+ SPF and then coming back home without that sexy tan. And, because of this, we would need some good and quick remedies for our sunburns. I am sure this article is going to solve all your sunburn problems.
Some quick fixes for your skin
Aloe Vera solution
Pure aloe Vera is available in different brands and many forms. You can opt for the one that you like and that may suit your skin the best. Whether in the form of a cream, spray, tonic or gel, you must keep it in your fridge in those hot summer days. If you will ask me then I would say that I like aloe Vera spray the most. I keep it in my handbag when I go for vacations. It's handy and helpful. Try the aloe way out!!!
Chilled Cucumber
If you do not have any aloe Vera solution at your disposal then makes use of that cucumber sitting in your fridge. You just need to peel this cucumber slightly and then just rub this coo, fresh and rejuvenating chilled cucumber on your sunburn. Trust me!! It will feel like heavens on your burnt skin. for better relief and results, you can rub it few more times on your burn. Cucumber does wonders on burnt skin.
Mashed avocado ointment
If you have few avocados and olive oil in your hand then put them at work. Slice up two to three avocados and mash them up with the help of a fork and then add one spoon of olive oil. Mix it well and then apply it to the burn. Let it rest for at least one hour to make it work. When you see the mixture has dried and turned black, rinse it off. Sooner you do it, better your burn will be.
Yogurt
This homemade remedy truly works like magic. This one is the age old remedy for sunburn and it always works. You can apply a thick layer of chilled yogurt on the affected area and see the wonders then. You need to let it rest for at least 20 minutes. After that gently rinse it off.
No need to fear of that sunburn anymore!! Flaunt and enjoy on those sexy beaches!! 🙂
Image Source : 1