Do you want to keep your legs smooth and glowing? Well then you have to opt for certain measures that will aid you in making your skin the way you want. But do you like to shave every day just to wear those shorts?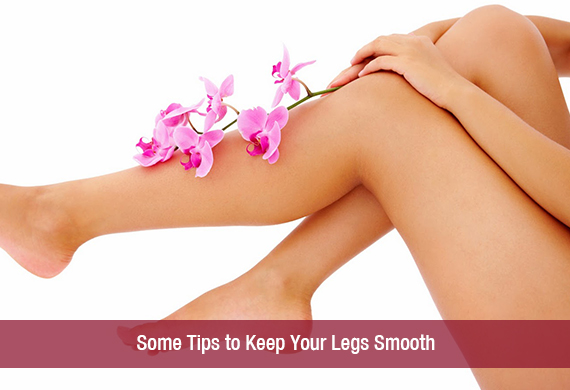 Getting smooth legs is easy without going for shaving every day.
Try these tips mentioned below to get your legs smooth and clean-
Moisturization
See when you want to keep the skin healthy and radiant, regular use of moisturiser is one of the important criteria. This is one of the main aspects for keeping skin ageless and healthy. So for your legs too, you have to apply moisturiser daily after bath and keep them smooth and flawless.
Waxing your Hair
This may sound tough but this is a pretty good idea to keep the skin smooth and soft. Waxing exfoliates the skin and helps one not only do away with the unnecessary hair but also removes the dead skin and gives one an even texture. Shaving your hair on your legs is not a better idea. The hair later appear, have hard edge which makes it itchy and tacky. You can try waxing at home. But just be a little careful while pulling the strips.
Shave Proper
If you are opting to go for shaving, be sure that you are using the right technique. This will ensure you with baby soft legs for a longer time.
Make use of a shaving gel or cream especially designed for the purpose of shaving rather than using soap while doing the shave.
While doing the shave, use the razor upwards and go. However, be gentle and do it slowly to avoid cuts or any form of injury.
However to get the best shave don't use hot water. Take lukewarm to get the perfect shave on your legs and bring the difference to your skin.
Use Olive Oil
After shaving your legs, massage with olive oil and let the skin absorb the oil. Olive oil has got revitalizing powers that will help in maintaining moisture of the skin and prevent dryness of the skin.
Exfoliation
This is an important skin care measure that will help in maintaining the smoothness of your legs. Take some granulated lentils and add some curd and few drops of olive oil. Now exfoliate the skin and remove the dead skin and free radicals from your skin.
These are important tips to get smoother legs, but if you want to get soft and clear skin, try laser hair removal process. There are also massage creams available that are meant to pamper your legs and make them look good.
Image Source : 1