With a good reason…sugar has gotten a bad repot recently- it can really make you horde on lbs! I am sure, ditching some candies and chocolates will definitely help you shed the ugly mid riff loaded with sugar…it can really screw your smarts!! You wouldn't even expect, but these biggest offenders are incorporated in our day to day life. So, are you curious to know more? Just read on than….take a look….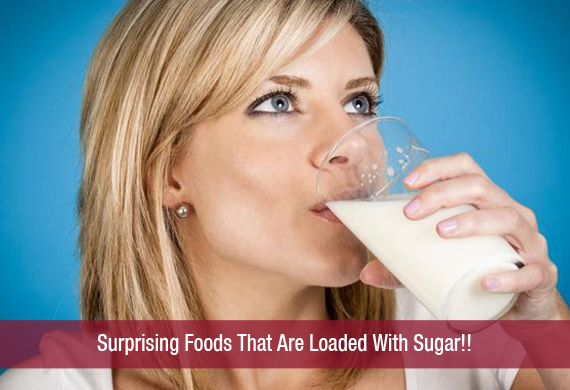 Milk…..
Drinking milk can be a great way to fulfill your calcium intake but ladies; you are whopping 12gms of sugar with one glass of milk!! Really!! How good can it be? Ah… I am sure you would really wanna skip your calcium intake now! Well, you don't have to sacrifice so much! Leafy vegetables like spinach…even broccoli are a great source of calcium!
P.S. – you can think of a small latte per day!!
Flavored Yogurt…..
….and you thought Greek yogurt is a wonder food packed with calcium and proteins! Ladies; flavored yogurts contain almost 20gms of sugar. If you really want a healthy tomorrow, choose the unflavored ones! Yes, it has merely 1/3rd of the amount of sugar when compared to the flavored ones. You can sprinkle some cinnamon powder for adding some taste to the plain yogurt.
Energy Bars…..
They are packed with proteins and are the best "on the go" snacks!! But this popular version contain almost 25gms of sugar…boy, ain't that too much? Wouldn't it be better to pack a boiled egg instead of nibbling a bar in hush-hush times?
Red Apples….
They are an easy serving for fibers but red apples contain almost 20gms of sugar! Uff ladies; you are going to put on tons of weight. Instead go for small green apple; they have the same amount of fibers.
Fat Free Foods….
What a fad? Really…you call them efficient fat free foods and they are loaded with sugar! Ladies, it is indeed the time to steer clear the air…they do contain sugar, they can make you fat!
So ladies, it's time your start avoiding the aforementioned foods to avoid the unnecessary sugar! Take care! 🙂
 Image Sources — 1