Before heading to office, we usually spend a lot of time thinking what to wear and how to pair. Sometimes, we become boring with our outfits while striving to get formal looks. However, our heart keeps beating for fashionable outlook, no matter where we are working. Well, we can actually maintain soberness (which is necessary for office) while being stylish (which is our own necessity). Let us know how to solve these two purposes at the same time.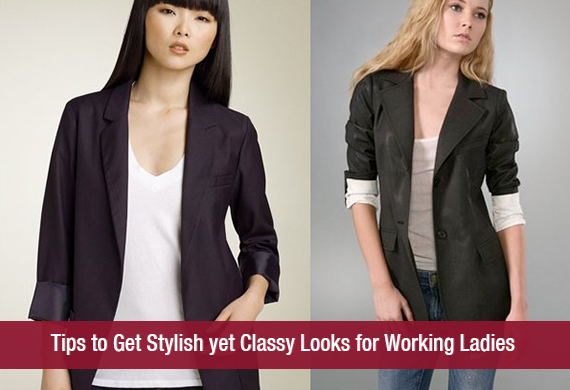 Attire Should be Comfortable
At no cost, you should compromise with the comfort of clothes. You have to move into office, have to run for meetings, have to meet people and have to do multiple tasks. You cannot work comfortably in a sexy dress and you will remain conscious. Do not let anything affect your work, so functionality in clothes is a must! Look stylish but be in your comfort zone!
You can wear semi-formal shirts if you have strict rules in the office and cannot go for casuals. There are various stylish shirts and body-fitted trousers in vivid colors available in the market to quench your desires. Else, you can pick a bright color kurta and pair it with an ankle length legging. You can intensify your looks by wearing a pencil skirt in case you are damn comfortable wearing it.
Accessories Need to be Chic
I know you cannot go beyond a certain limit when it comes to attire but you can definitely show your style in accessories. You know I believe that accessories contribute more in throwing attitude than dressing. A stiff polished branded bag, stylish leather belt, chic sunglasses, smart wristwatch can really show your class, girl. You can also bring life to unexciting attire by wearing a bright color scarf over it.
Hair Need to be Neat
Only fizzy, scrambled hair do not look good. Neatly tied hair and clipped hair can also endow stylish looks. Crazy hair pays well when you are going to rock any party but plain well-tied hair are perfect for office. You can make puffs or buns for variation.
Wear neat, clean and well-fitted clothes! Carry branded accessories! Have perfectly tied and controlled hair! This is the way to look stylish yet classy!
Image Source : 1