Sunscreens shield us from harmful ultraviolet rays that sun showers right from the break of the dawn. You must have experienced a whole lot of confusion while on your shopping spree to the market for a sunscreen lotion like which sunscreen will suitably suit your skin, its protection factor and many more.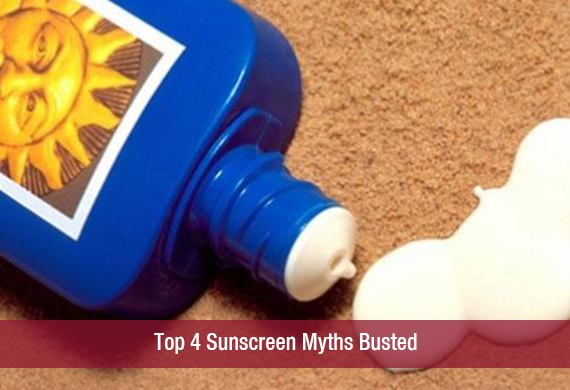 Many- many myths have been revolving around that little bottle/ tube of sunscreen which is like an umbrella in the scorching summer sun. Want to see some of these being busted? Read on and check out the real face of reality!
SPF 50 Protects Best
Ladies, if skin that covers your body is Indian, bang on! You are really fortunate. It is proved that we Indian skinned people can do very well with sunscreen having SPF in between 15- 30. Dusky skinned souls can do very well with the SPF- 15 but the ones having the skin on much fairer side must opt for the SPF-30 as their skin is much more sensitive to the sun damage as compared to the dusky skinned ones.
Age Factor- Not the Deciding Factor
Not true! Our choice of the sunscreen is very much dependant on our age. It is like if we are between the ages of 15- 40, it means our skin tends to generate more oil than the skin of a lady who is over 40. So the younger ones should go for sunscreen which is on the non- greasy side and over 40 ladies should opt for moisturizer based sunscreen.
Skin Cancer- A Great Risk
Here comes another lie! There is no such risk of getting skin cancer if we are a regular user of sunscreen. We Indians have skin that is high on melanin thus, reducing the chances of getting skin cancer and that too because of a sunscreen. But, this is true for sure, that if, in the long run use of sunscreen is avoided that the chances of getting wrinkles, pigmentation and freckling increases. Choice is yours and yours alone!
Sun Shield at Home
It is a myth that sitting at home kills the chances of getting sun tanned thus reducing the need of a sunscreen. Now let me bring forth you the truth. The UVA rays reflect off solid surface. If you are sleeping next to a concrete wall, the chances are solid that you may wake up with tanned looks. This thought is scary, isn't it?
Now that the cat is out of the bag, don't you forget to use sunscreen on your next outing and don't worry about the SPF anymore!
Image Source : 1