Big things generally attract the eyeballs of many side passers or other individuals. Most of you ladies must have experienced such instances. Ohhhh c'mon, don't shy away now. Being a woman, I can understand such issues very well so, you can feel free to have a frank discussion with me.
It's kind of natural to have large breasts although, sometimes you may enjoy the attraction, but most of the times it becomes embarrassing to have such big assets. Your man may enjoy them on bed, but I am sure you may feel shy away flaunting them. Hold on, first of all, try to understand the fact that it's your body and you must love it the way it is, but if you still are in need of some help, then rely on me, I am here for you, by your side. So, relax. 🙂
However, there are many ways to reduce your breast size. Surgeries, lotions, pills..you must be thinking about them and must be expecting the same out of me, but I am a bit different. Wink-wink! I believe in practice and that's the reason why I have decided to bring out the best solution for reducing your over-sized breasts and it is through EXERCISES! So, let's learn some more about it..
Being a modern woman, I am sure you will first take your feet towards the best Gym of your area. Just to provide you with an alarming signal of which exercises are best for you in gym, here are the details of BEST GYM EXERCISES to reduce your breast size:
# Push Ups
This is among the very common practice of gym exercises. All you need to do is to lie down on your stomach on ground by maintaining a straight line from your knees to your ears. Keep your feet close to each other and your palm fingers apart from each other to have a good grip. Now, move your chest, oops sorry breast up and down and try to hold this posture for atleast before coming down.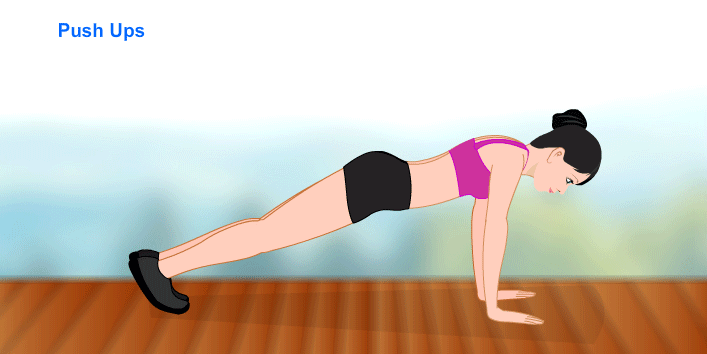 P.S: One good thing about push ups is that you do not need to push down to great extent as you are done with your part the moment your breast hits the floor and such is the advantage of having big boobs. He-he!
# Shoulder Shrugs
Remember the most favorite gesture of ladies, we don't know with your shoulders touching our earlobes. Yeah yeah, you have to practice the same. Simply shrug your shoulders straight, touching your earlobes. While doing so, just ensure that your elbows are straight and your hands are kept alongside your thighs. You just need to push them up and down and are not required to roll them.

Source: http://cdn2.stylecraze.com/

Source: http://rnblog.rockwellnutrition.com/
P.S: You can practice this even at your home by saying a 'I don't know' to your man. Ha-ha!
# Upright Rows
For this, you need to stand in a straight position with your feet apart and hands placed in front of your thighs. Now, giving some pressure to your hands and shoulders, slowly pull them up, following your body figure to the bottom of your armpit. Just ensure to keep your elbows higher than your hands.

Source: http://dietsinreview.s3.amazonaws.com/

Source: http://media1.popsugar-assets.com/
P.S: Just to make things more challenging, you can even hold on to weights.
# Shoulder Press
This is the most hardest yet fruitful exercise to do. You can although make it lighter by by sitting on a firm seat. Take your starting position by placing your palms forward and thumbs leveling with your ears. Now, feel up by pressing your arms and letting your hands come together in motion. Try to hold this position for few seconds and then, come back to your actual position.

Source: http://agilityfiles.oxygenmag.com/

Source: http://www.stonehardabs.com/
# Anterior Front Raises
This is almost like the previous one. The only difference is that you need to raise your arm in front of your body, till your hand reaches your shoulder height and arm becomes parallel to the ground. Sounds easy na? Hope it seems same easy while doing so!

Source: http://286j2w1w4g0x3z4asq2hs8n1.wpengine.netdna-cdn.com/

Source: http://cdn2.stylecraze.com/
# Side Raises
I am sure you all want to fly high or feel free by letting your arms sway freely in the air. Well, it's time to give wings to your wishes. Place your palms beside your thighs, keeping your elbows straight. Raise your arms to the side of your body making them appear parallel to the ground. Wooooo, you are flying (Kidding, but you can surely take the feel). Remember to take a pause while coming back to your starting position.

Source: http://woman.thenest.com/

Source: http://i.ytimg.com/
Concern: The only advise while following up these exercises is that avoid lifting heavy weights as it will only lead to building up of your muscles thus, making you appear heavier and broader!
Phew, indeed a hard job! Don't panic ladies. I am there for everyone. There must be ladies, you cannot take out time for gym out of their busy schedules, so for them, I have other options too. You can frame your upper body structure well by following some NATURAL OR HOME BASED EXERCISES. Sounds great na? Let's hear it up about them..
# Jogging
Get up you lazy lads, put on some music in your ears and let your legs do the talking through jogging. It is not effective for reducing your body fat, but it is also effective for reducing your over-sized breasts. A twenty minutes jogging can really provide you with great benefits!

Source: http://fitnessinformative.com/

Source: http://www.tribuneindia.com/
# Swimming
Ohhh God, how much we love to explore the deepness of water like a water nymph! It is the most effective form of Cardio exercise for reducing breast size. The back and front strokes pay direct results on our shoulder and chest muscles, thus reducing your breast size and providing an attractive shape to your breasts.
Source: http://www.leisurecentre.com/

Source: http://www.freestockphotos.name/
# Climbing Stairs
The most easiest exercise you can ever imagine. Climbing up and down, on stairs for 15-20 minutes a day can really be blissful for your body as well as your breasts.

Source: http://www.thecrossfitreview.com/

Source: http://www.kaizo.co.uk/
# Hip Shift
The connection of hips to breasts is truly amazing. To make this connection more stronger, stand straight and raise your hands in an upward direction. Interlock your palms and bring them parallel to the ground. Release your index finger and while inhaling push your hips towards the right side. And while exhaling your breath bring your hips back to the starting position. Perform this activity daily for 10 minutes in both directions and the results will definitely be in your breast favor, thus making them appear reduced.

Source: http://images.medicaldaily.com/

Source: http://www.newhealthguide.org/
Wait, wait, I have lot more in my store. For the ones you have more healthier approach to their health and believe in building a connection with their soul, have also been considered by me. For them, I have tried to bring the BEST YOGA EXERCISES out of my health box. Here they are..
# Wall Press Technique
Many of you must have practiced this one after getting drunk. Ha-ha! For this technique, you are required to stand facing the wall and placing your palms on the wall. Now, press your palms against the wall to provide a good exercise to your pectoral muscles.

Source: http://media3.popsugar-assets.com/

Source: http://wdy.h-cdn.co/
# Prayer Pose
This is a simple pose, which you can practice while offering prayers to the Lord. You simply need to join your hands or palms, pressing against each other. This will exert pressure on your chest or pectoral muscles, thus leading to their reduction.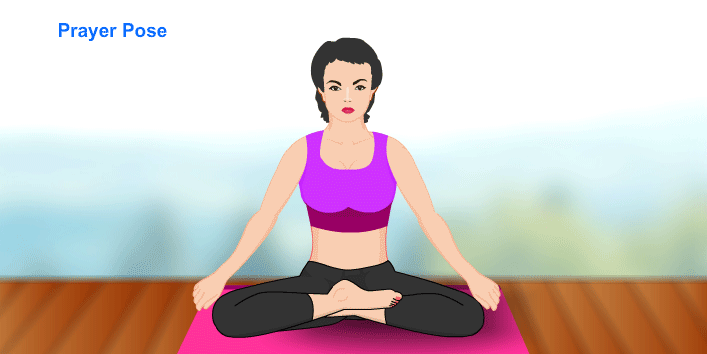 # Bikaram Yoga Exercises
These exercises or postures are really effective for burning your body fat, thus reducing your breast size. It is advised to follow these exercises with the help of a trainer only and for maximum 90 minutes, in a room heated to 105°F (40.6°C), with a humidity of 40%. It consists of 26 postures and 2 breathing techniques, which challenges you both physically and mentally.

Source: http://www.hercampus.com/

Source: http://36.media.tumblr.com/
# Ardha Chakrasana Or The Half Moon Pose
This is the most important posture for reducing your breast size. Place your left hand resting on your hip, thus taking the position of Trikonasana. Now, bent your right knee and move a bit forward. Move your right hand in forward direction, stretching it few inches away from your right leg. Now, exhale and make a firm grip of your right hand and right heel on floor. Slowly lift your left leg parallel to the floor and raise your left hand. Maintain this pose for few seconds, without giving much stress to your backbone.
Source: http://www.theholisticcare.com/

Source: http://www.brigiddineen.com/
Here, I pack up my health bag. I am sure, you enjoyed this health session. Now, lift your bums and get ready for the practice of these exercises. Well, you can thank me later, for this great help from my side! 😉
Incoming search terms:
how to reduce breast size through yoga (957)
exercise to reduce breast size with pictures (407)
how to reduce breast size by yoga (356)
yoga to reduce breast size (322)
yoga exercise to reduce breast size (289)
how to decrease breast size by yoga (218)
exercises to reduce breast size (201)
how to reduce breast fat by yoga (139)
exercise for reducing breast size (131)
how to reduce breast size by exercise (114)