Our skin is like a seamless piece of clothing that shades and protects our body from outside influences. One small tear and the skin are left with a mark or spot usually with an unwelcoming appearance known as "scars".
Scars on face are the most hideous things and make one feel utterly conscious of one's appearance. Here are some easy scar remedies you can try to get rid of scars.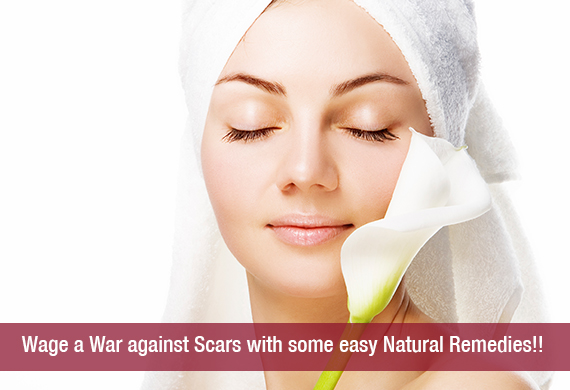 Have a look:
1. Use Aloe Vera: Aloe Vera is endowed with anti-inflammatory properties and when used on acne scar can cause the redness on scar vanish. Although the best possible solution is to obtain the aloe gel directly from the plant but if that is not available then the variety of aloe based products purchased across the counter will provide an excellent alternative.
[31 Aloe Vera Uses and Benefits Click to Read]
2. Try Olive Oil Treatment: Olive oil has a great ability to lock the moisture and help loosen the skin. Due to this the skin acquires a natural capability to revive and rejuvenate which assists in smoothing out the scars.
3. Use Tomato on your Skin:  Tomatoes naturally have high water content and moreover they also have Vitamin A. Thus, when applied, they can rejuvenate the scarred skin and helps in the growth of new skin cells. As an application, you can use tomato pulp directly on the face, while keeping a focus on the affected areas.
4. Try Cucumber on your face: Cucumber act as a great agent to keep the skin soft and hydrated and help to get you rid of the acne scars. An excellent item with many cosmetic benefits, cucumber helps takes away your scarring woes with an élan.
5. Fenugreek: Make a paste of fenugreek and make use of it as a face mask and let it there for an hour or so. One more thing you can do is to boil the fenugreek seeds and apply that water on scars when it cools down.
The above methods have proven to be very effective and have been in use since a long time. Of course getting rid of scars will not take place overnight but it's usually more prudent to take a natural recourse rather than going for cosmetic treatments.
What are the other methods that you find useful for treatment of scars? Do share with me.
Image Source : 1