Ahem! Ahem… so someone's getting married?? Feeling that tickling butterflies in you?? Or panicking with the awaiting preparation?? Whichever way it is…let me assure you both are gonna be vanished later!! So don't worry and enjoy the phase to its most. And as far as your shopping is concerned, let me help you girls…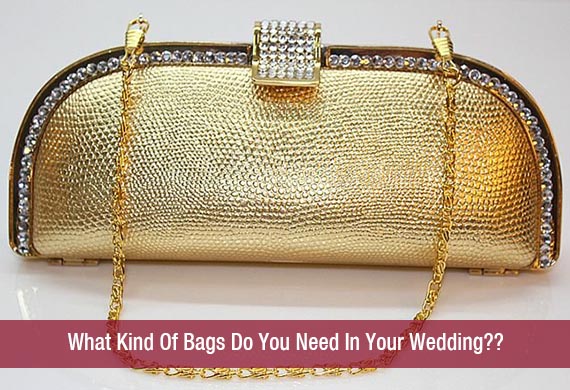 All the outfits, accessories, jewellery etc. play equally important role in your wedding preparations. But bags are usually neglected by the brides. Why so? Bags hold as much importance in your wedding collection as other things do. After all you won't be carrying your lipsticks and compact in some tacky poly bags when you go out!
Here lemme give you simple easy criterions with which you can select your bags easily…
Short and slim bags reflect your high taste and selective choice. You tend to buy these bags only for the sake of flaunting them. Hey, don't worry!! There is nothing wrong with flaunting… after all your changed lifestyle after marriage also calls for a change and flaunting your possessions. Don't forget…every eye is fixed on the 'Newly Wed'!!
You cannot take your sexy sleek bags to the formal environment, especially when you are going to the bank or your office. Neither would it be sufficient for your belongings nor will it suit the formal environment. Therefore you need a sober though stylish bag for such occasions.
Those crystals, diamonds and all the shiny affairs are meant especially for the family functions like marriage parties, engagement ceremonies, anniversary celebrations and all. You make sure that you need not rush to buy one for some upcoming gathering. Keep lesser specific colors in your collection.
Won't you go out for your hideous date even after marriage?? Yes I know that you need not to hide it from anyone once you are married… but why not?? It is so much fun after all? So won't you need some space to hide your 'special' dresses in your bags? And not only for this, you need some space in your bag for those family picnics as well that allow you to come closer to the family members having jolly time.
So make sure that you get the most classy bags after due survey of the market. Don't settle down with the first bag that you come across. Satisfy your needs, taste and budget well with it!! Have a great wedding time!
Image Source : 1