Of all the weaponry in your child's store, the words "I Hate You" have tremendous clout to reduce any parent's anger to tears! It is more like a sluggish movie scene…everything seems to occur slowly yet there isn't anything you can do to prevent it! A shake of the head, a scornful stare, shoulders up and then the "hate speech" is uttered with a cold blooded snarl. Sigh***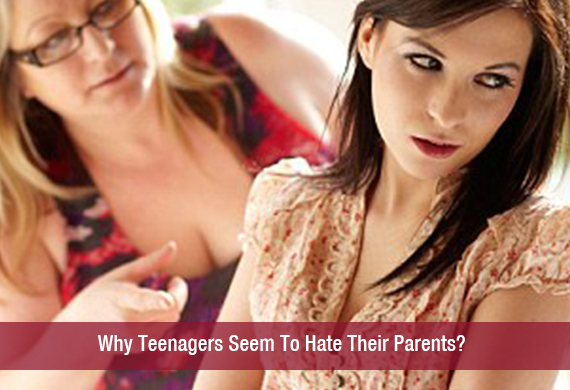 And with the spin on her heels, she marches out of the room slamming every door that is between you and her destination. You can clearly hear the said murmurs of anger concerning how you (parents) have ruined her life, lack of justice shown towards her and all the nomination of world's worst parents- exactly dear, that's you!
But why does that smiling, laughing kid squeal such a speech of hate? Children know exactly that words of hatred can paralyze their parents during a fight which is why they use this tactic to get exactly what they want!
So dear parents, it is really important to understand that tiny little hints of those emotional stings. Just for example, take a look at this….
I HATE YOU!!
Translation: You aren't letting me go outside; I am going to talk hatefully to you so that you get upset and give in!!
Ineffective Parents Response: "I hate you too."
Dear, is that how you deal with a teenager? Give it a thought.
Effective Parents Response: May be, at times, you hate me…but I am still not letting you go outside!!
I know, it's not only the parents who get worried….trust me, I am in 19's now and I do get terribly upset after hurting my parents!
So, if you are a teen reading for your parent….it is important to love them!! And for the parents reading for their teenagers….make them learn even if it's the harder way!!
Now, let's figure out some character assessments and compliance that make teenagers so rebellion…..
Teenagers are Born to Oppose You!!
Yes dears!! This is a FACT!! Teenagers are premeditated to oppose their parents. It's their destiny because they need to achieve their definitive plan- to be an ADULT!!
So, if the next time you hear your dear daughter saying she hates you; don't take that to heart because she doesn't. It is just the intense moments when teenagers tend to think their parents are the ultimate obstacles to their goals. Parents, it is important to understand that, "They are making a difficult transition to the world of adulthood!!"
Teens don't want to be dependent on their parents during this phrase….the process of discovering their identities push them against the established boundaries.
Difficult Teenagers, Check this out!
Here are some ideas what you need to do when your teenagers start pushing the buttons…..
Things will eventually get worse if parents also start being agitated and irrational, just like the teenagers. Parents, your heart chums are learning to manage their emotions and you need to portray a good picture to them! Yes…adults are equipped to manage their feelings and emotions, pass the same to your kids.
Even if you are angry, don't let your teenager realize it…take a deep breath and be polite or give the conversation some break.
Just because your teenager is enraged, doesn't mean…you will have to do the same! Never mirror the emotional state of your teenager. I am sure, it's easier said than done…..but as an adult, you are much more experienced to handle feelings. Choose not to raise your voice when your teen is agitated. Be factual and sensible.
State Clearly What It Is You Want From Your Teenager!
It is always easy to respond to accusations and insults with defensive remarks….just don't do that!!
When your teenager is making a big deal for his/her favorite stuff, make sure to be clear with what you require from them and what your decision is. Being clear is the secret to avoid any argument.
Encouraging Teens in indulging in activities also can help. Read this
Remember What Is Happening!
Trust me parents; perspective is a wonderful thing. The marvelous way to deal with the insults and accusations is to see what it is for! Your teen is growing up and wants to explore some freedom and hence, they are prone to challenge you at every step. But why give them reason? Parents, just give your sweetheart some of his/her own space…the emotions of hatred will fade away eventually.
Bottom-line is that your teenager only wants to be happy in life and perhaps sharing feelings will close these gaps. If they have flaws, help them overcome it instead of pointing it out! You have been through the same phrase…just keeping that in mind, deal with your kid!
Providing sex education to teens
Image Source : 1