Ladies, it is highly essential to change your skin care habits with the changing weather. Monsoons are knocking on our doorsteps bringing dampness and humidity along! The greasy and oily skin appearance is absolutely an ugly site. No matter what our skin type is- this wet season takes a toll over all of us! Basically, pollution, dirt, dust, grime and UV rays during the summers are the primary reasons why our skin is more prone to higher damage. A whole new set of problem arises during the season of downpour, even though the temperature is low.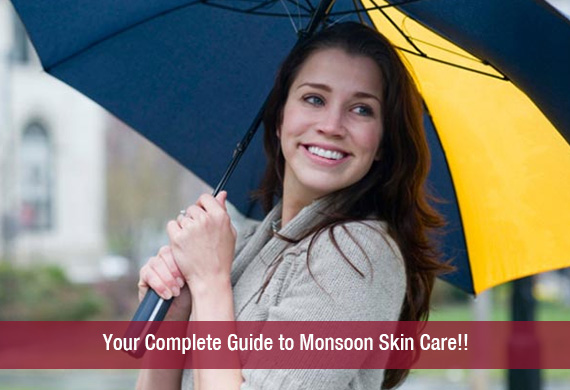 Check out the article to figure out the ways to save your skin from grease, flakes, itchiness and acne.
Common Skin Problems during Monsoon:
Skin infections are very common during monsoons. Bacterial and fungal infections can be very distressing. I, totally get that annoyance and irritation one faces once encountered with skin problems. I would suggest anti-fungal and anti-bacterial powders to all my friends out there. Apply it on the feet and hands before stepping out of the house. You can even use it on all body folds to avoid any sort of infection. Rashes, discoloration of skin, ringworms is the other problems faced by many of us during the rains.
Oily Skin
It's a pathetic time for all the beauties having oily skin. Yes, you got to take extra care in the season of downpour. Though the heat is gone, the weather is cooler, but your skin tends to become oily resulting in occasional breakouts! Scared? Well, don't be. Just use a light moisturizer after bath. Scrubbing is the easiest way out. Just scrub you face twice a week. It eradicates all the dirt and grime. Use water proof makeup and bump into gel based sunscreen before stepping out in the rain to enjoy your share of splashes!
Dry Skin
Ah…girls with dry skin are at a higher risk. Your skin is prone to become drier and dehydrated. Yes, it's the season of water but still! Having dry skin? Be extra cautious this time. Use luxury moisturizer to keep your skin healthy and hydrated. It also eradicates the flaky and itchy eerie feeling from the skin. Cleansing is highly recommendable for all the ladies having a dry skin tone. Make sure to use alcohol free toner to keep your skin alive and breathing. Foundation is the perfect pick.
Tricky Skin
If you have a tricky skin type that is a combination of dry as well as oily skin (nose, chin and forehead is generally oily) are at least risk.  Although, cleaning is equally important for people having combination skin type, they can avoid scrubbing twice a week. Moisturizing is very important for girls.
My Little Secrets for Healthy Skin
Make sure to stay hydrated as the season of rain is extremely humid and damp.
Make sure you are eating right, as beauty isn't about outer appearance only. If you are healthy inside, it will show on your face.
Incorporate Omega-3 supplements in your diet
Do Not Wear Heavy Make Up
Cleansing, moisturizing is highly important as it will give you a fresher look
Bump into the detox facial packs; it is just the right time to use them!
Take proper care of your skin and enjoy the heavy downpour without worrying about your looks!
Image Source : 1
Incoming search terms:
face cream for monsoon (2)